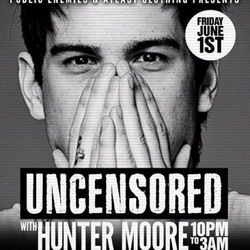 Brandi Passante appears on A&E Network's Storage Wars reality show, as a result of which she has achieved notoriety and claims to be a worldwide celebrity and developed trademark rights in her name. Defendant Hunter Moore has been anointed the Internet's most hated man for publishing unauthorized pornographic pictures of men and women, often submitted by jilted lovers, and linking the pictures to the individual's Facebook page. Although he reportedly sold the website to an anti-bullying entity, he appears to be posting similar material to his tumblr account and new website.
After numerous unsolicited posts on her Twitter account stating that users wanted to see more of her pictures and video, Passante discovered that Moore had posted images of someone portraying her in a pornographic video to his tumblr account. Passante alleges that she never made any such video and Moore has fabricated the video for the purpose of trading on her fame and celebrity to draw traffic to his site. Moore is also accused of posting defamatory comments related to the video by falsely representing that Passante made the video for him. The complaint states that "Moore posted the video knowing that the images were not of Passante and did so maliciously, and with reckless disregard to Passante's reputation, privacy, and well-being. He did so with the false and fraudulent intent to mislead the public into believing he was somehow affiliated with Passante."
The Judge immediately issued a temporary restraining order preventing Moore's posting, publishing, or linking to the Video, and ordering its immediate removal from Moore's sites. The Judge also ordered Moore to appear on November 9th to argue why a preliminary injunction should not be entered preventing the dissemination of the video or why "all of Moore's computers, servers and other electronic storage devices that contain copies of the Video should not be impounded by the United States Marshall's offices." The Judge relied on Passante's likelihood of success on her trademark infringement and Lanham Act claims in issuing the TRO because Moore's "use of Passante's name and likeness in commerce in connection with a video and associated images thereof or therefrom (collectively "Video"), and his false and misleading claims that the Video originated with Passante were intended to deceive the public into believing that Passante was in some way affiliated with Moore, thereby driving web traffic to his illicit website." Because there is no adequate remedy at law, injunctive relief is the "remedy of choice" in trademark cases. Century 21 Real Estate Corp. v. Sandlin, 846 F.2d 1175, 1180 (9th Cir. Cal. 1988).
Liability for some of Passante's claims could be uncertain because website operators that allow user generated content (e.g. pictures, videos, or comments) can avoid copyright infringement liability under the Digital Millennium Copyright Act ("DMCA"), if the safe harbor provisions are followed, and are also protected against tort liability (e.g. defamation, slander, libel) by the Communications Decency Act. To enjoy the safe harbors of the DMCA, a website operator must designate a copyright agent on a form submitted to the Copyright Office along with the corresponding fee, provide terms of use that outline take down notice procedures to report allegedly infringing content, have no actual knowledge of the infringement, and expeditiously remove accused content. Moore, however, could be liable for defamation if he falsely claimed that Passante made the video for him or sent it to him.
The case is Brandi Passante v. Hunter Moore, SACV12-01866 JVS (C.D. Cal. 2012).