House of Lashes is a Southern California beauty company that sells eyelashes, beauty products, and accessories, and is well known in the beauty and eyelash industry.  House of Lashes owns the federally registered ICONIC trademark (Reg. No. 4.839,324) for false eyelashes, adhesives for affixing eyelashes, and artificial eyelashes.  Additionally, House of Lashes has a federal copyright registration for a photograph of its "Iconic" lashes (Copyright Reg. No. VA 1-996-524).  House of Lashes' ICONIC brand of lashes is one of its most popular products and designs on the market and is sold online as well as in many stores nationwide.  Additionally, House of Lashes alleges that its product's packaging is inherently distinctive because it is unique in the eyelash industry, and combines elements making it recognizable to consumers without accompanying words.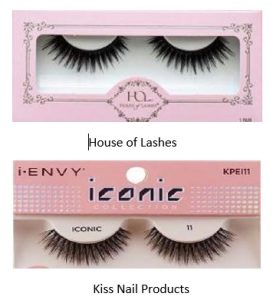 Kiss Nail Products is a competitor in the beauty industry that began selling "Iconic" brand eyelashes on websites and in stores.  On April 24, 2018, House of Lashes sent Kiss Nail Products a cease and desist letter, and the latter responded that it would not be complying with the cease and desist letter and would continue to make and sell "Iconic" branded eyelashes.  Thus, House of Lashes is suing Kiss Nail Products for (1) infringement of registered trademarks (15 U.S.C. § 1114), (2) unfair competition (15 U.S.C. § 1114), (3) false designation of origin (15 U.S.C. § 1125(a)), (4) trade dress infringement (15 U.S.C. § 1125(a)), (5) copyright infringement (17 U.S.C. § 501), (6) registered trademark infringement (Cal. Bus. & Prof. Code § 14335), (7) unfair competition and false designation of origin (Cal. Bus. & Prof. Code § 17200 et seq. and § 17500), and (8) declaratory judgment.
House of Lashes alleges money and time investment in building a loyal fan base and protecting its ICONIC trademark, including a strong social media presence with millions of followers, videos with 18 million views, and estimates over a billion impressions related to their ICONIC brand eyelashes.  House of Lashes argues that the defendant's purpose in using the Iconic trademark and packaging trade dress is to cause confusion or to deceive customers.  Defendant is also accused of intentionally copying the design, layout, visual presentation, and arrangement in photographs displaying the eyelashes, thereby infringing House of Lashes' copyright registrations for photographs.