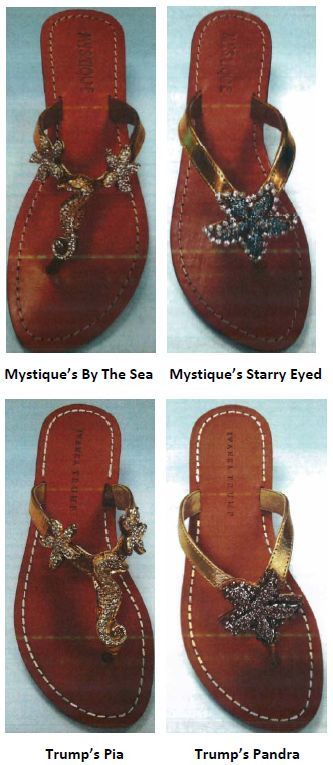 Mystique, a shoe and sandal manufacturing company, filed a copyright infringement and unfair competition claim against Ivanka Trump for allegedly copying two sandal designs. Mystique created and registered with the US Copyright Office its ornamental designs affixed to sandals titled "By the Sea – Style 3323" and "Starry Eyed – Style 4179." Mystique contends that Trump's "Pia" and "Pandra" sandals are substantially identical copies of Mystique's shoe designs: "Defendants' acts are willful, deliberate and committed with prior notice and knowledge of Plaintiff's copyrights. At a minimum, Defendants were willfully blind and in reckless disregard of Plaintiff's copyrights."
This isn't the first time Trump's been accused of pilfering another company's shoe design. Fashionista covered Derek Lam's scandalous sandal copying allegations against Ivanka Trump, but it appears the response to Lam's cease and desist letter was to go pound sand because Lam did not have proper intellectual property protection and the shoe design had been previously produced by numerous third parties. My loyal readers will say: "Wait a minute, you've told us that copyright law views fashion products, for example pursues and shoes, as useful articles that cannot be copyrighted. So how was Derek Lam supposed to protect his sandal design."
Other loyal readers will – I hope – respond with DESIGN PATENTS! Unlike UGG shoes, however, many fashion designers are unaware that fashion designs can be protected through design patents, which must be filed within one year of the design's public disclosure. Without a design patent, it appears that Derek Lam was attempting the tougher climb of proving trade dress infringement against Trump.
Some loyal readers will now state: "Wait another minute, if sandals are useful articles not protectable through copyright law, how in the world is Mystique filing a copyright infringement complaint against Trump?" As you can see from the sandal pictures, the stars and sea horses are separable design elements that are copyrightable subject matter and form the basis of the copyright infringement complaint. See Chosun Int'l v. Chrisha Creations, Ltd., 413 F.3d 324, 328 (2d Cir. 2005) ("individual design elements of useful articles are afforded some level of protection under the Copyright Act, so long as those design elements are physically or conceptually separable from the article itself.")
The takeaway for new readers should be to patent clothing and shoe designs that lack separable design elements. And if you've failed to do so within one year from the date of public disclosure, your fallback position is a trade-dress infringement claim as filed by Givenchy v. BCBG and Marc Jacobs v. Christian Audigier.
In addition to the copyright infringement claims, Mystique asserts a cause of action for unfair competition under California law, which appears to be preempted by the Copyright Act because it is based on the same set of copyright infringement facts. Xerox Corp. v. Apple Computer, Inc., 734 F.Supp. 1542, 1550-51 (N.D.Cal.1990). Mystique is seeking unspecified monetary damages and a permanent injunction.
The case is Mystique, Inc. v. Ivanka Trump Marks, LLC et al., CV12-10217 RGK (C.D. Cal. 2012).