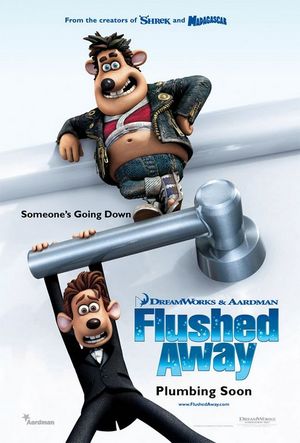 Los Angeles, CA – Screenwriter Yolanda Buggs sued Dreamworks and Paramount Pictures for copyright infringement over the release of the animated feature "Flushed Away." Buggs was enrolled in the American Film Institute's screenwriting program in 1999 when she met Chris Kuser, a fellow student who was also an intern at Dreamworks. During her time at AFI, Buggs developed an idea for an animated picture and wrote a screenplay, which she entitled "Critter Island," about a roach that is flushed down the toilet in N.Y. and must navigate the sewers to get back to the high society home in which he lived. Buggs, like all screenwriters should, registered two versions of her screenplay with the U.S. Copyright Office – and fortunately not the WGA. "Aware of Mr. Kuser's employment at Defendant Dreamworks and in light of his encouraging support for her idea, Ms. Buggs gave Mr. Kuser a copy of each version of Critter Island to read and comment on," according to the complaint.
After graduation from AFI, Buggs alleges that she contacted Kuser to set up a meeting for presenting Critter Island at Dreamworks, but instead of his past enthusiasm, Kuser discouraged her attempts and told her to hire an attorney to present the script. In 2003, Plaintiff alleges that she made an animated short film and sent a DVD to Kuser in a further attempt to garner interest, but she heard nothing.
Then in the fall of 2006, she saw a trailer for Flushed Away, a movie about a high society rodent who gets flushed down the toilet into the sewers of London and has to find his way home. The film credits Kuser as "Creative Executive," which means that the "original concept" for the movie originated with him. Buggs alleges, however, that Kuser "stole that 'original concept' for the project from the Plaintiff." Plaintiff alleges that Flushed Away bears substantial similarity to Critter Island, including the plot, characterization, theme, mood, sequence of events, and setting. The animated feature allegedly grossed in excess of $160 million in theatrical and video distribution, excluding video games, spin-off DVDs and other works based on Flushed Away. The case is Yolanda Buggs v. Dreamworks, Inc. et al., CV09-7070 SJO (C.D. Cal. 2009).