UPDATE 6/17/08: The District Court ordered dismissal of Defendants' complaint for lack of subject matter jurisdiction, under Fed. R. Civ. Pro. 12(b)(1), because the U.S. Copyright Office had not issued a registration certification at the time the complaint was filed.  Click to learn how jewelry copyright registration protects jewelry designs.
Los Angeles, CA – Copyright attorneys filed a jewelry copyright infringement lawsuit, in Los Angeles Federal District Court, on behalf of Sweet Romance Jewelry Mfg. for copying of protected jewelry designs. In 1997, Sweet Romance authored, as an employer for hire, a jewelry design entitled "Lady Caroline Lorgnette" (the "Work"). The Work was first sold in 1999 through the defendants' competitors. On March 12, 2008 – only recently – Plaintiff submitted the Work to the U.S. Copyright Office for registration.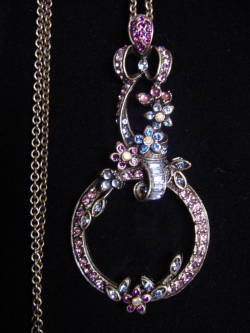 The complaint alleges that defendants, which are various entities related to the Home Shopping Network, began manufacturing and selling copies of the Work, which are virtually identical to Plaintiff's work, except for the name given to the jewelry piece. The complaint alleges that the Defendants' copies are cheap imitations manufactured in China and instead of the stones being made of Czech crystal, as represented on the Home Shopping Channel, the "stones" appear to be plastic or other inferior materials. (SIDE NOTE: If that is the case, it's puzzling why the Plaintiff does not include a false advertising/unfair competition claim under the Lanham Act). The complaint continues that the defendants' copy of the work is allegedly not sold in California because the high concentration of lead violates California's strict environmental and safety regulations. Also, plaintiff alleges that Defendants had access to copies of the Work because they were involved in negotiations to market plaintiff's work. The complaint seeks damages under 17 U.S.C. § 504. The case is titled: Cosmetic Ideas, Inc. v. IAC/Interactivecorp, CV08-02074 R (C.D. California).
PRACTICE NOTE: This case illustrates the need for early registration of copyrights in order to be entitled to statutory damages and attorneys' fees. Because the plaintiff did not register its copyright within three months from publication or before the infringement commenced, 17 U.S.C. 412 prevents the plaintiff from recovering attorneys' fees or statutory damages under 17 U.S.C. 504 and 505.