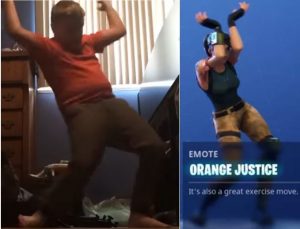 The Orange Shirt Kid sued Fortnite's creator for copyright and trademark infringement for using his signature "Random" dance moves and catchphrase "It's also a great exercise move!" in the wildly popular videogame.  The Kid shot to YouTube stardom in 2018 after posting his Random dance video and catchphrase.  Fortnite is a free-to-play video game that generates income from in-game purchases, including avatars performing dances.  The complaint alleges:
Like selling a cheap knockoff, Defendants sold the Random dance in-game and simply renamed it to "Orange Justice."  However, the Orange Justice and the Random are one and the same.  Indeed, this is made plain by the caption text that accompanies the Orange Justice that is the same as the Orange Shirt Kid's Catchphrase "It's also a great exercise move" as well as the name of the emote—"Orange Justice" is an obvious reference to "Orange Shirt Kid."  Defendants did not credit Orange Shirt Kid nor seek his consent to use, display, reproduce, sell, or create a derivative work based upon Orange Shirt Kid's Random dance or likeness in Fortnite. Defendants also did not seek his consent to use the Catchphrase in Fortnite.
The Orange Shirt Kid's lawsuit is the latest in a string of similar suits alleging Fortnite creators copied other people's dance moves for sale in the videogame.  The complaint references Epic Games, Inc.'s alleged copying of "the Backpack Kid's 'Floss' dance (which is known by the same name in-game)…Alfonso Ribeiro's performance of his famous dance on The Fresh Prince of Bel-Air television show (named the "Fresh" emote)…and 2 Milly's 'Milly Rock' dance (named the 'Swipe It' emote)."
It will be interesting to see how these dance copyright cases proceed because although Section 102 (a)(4) of the Copyright Act allows for protection of choreography, there are limitations.  In 2017 the Copyright Office published a guide for protecting copyrights in choreographic works, identifying non-copyrightable dance moves.  The guide explains that commonplace movements are not eligible for protection, for example short dance routines including "celebratory end zone dance move or athletic victory gesture."  Also, social dances like ballroom dances and square dances fail to qualify for protection.  Is the Orange Shirt Kid's dance too short, a celebratory dance, common place, and/or a social dance to qualify for protection?
The case is McCumbers. v. Epic Games, Inc., 2:19-cv-00260 (C.D. Cal. 2019).