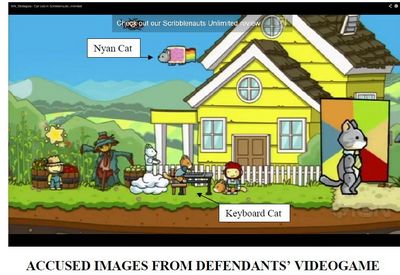 Los Angeles, CA – A copyright and trademark infringement lawsuit was filed against Warner Bros. and 5th Cell Media, the creators of the Scribblenauts videogame, by attorneys for Charles Schmidt – creator of the Keyboard Cat meme – and Christopher Orlando Torres – creator of Nyan Cat meme.
Keyboard Cat is a video of Schmidt's cat, Fatso, wearing a shirt and playing an electronic keyboard with its paws. The meme, which is a communication of ideas or information, has gone viral, receiving over thirty million YouTube hits. Schmidt has registered the video's copyright with the US Copyright and has two pending trademark applications for the term "Keyboard Cat", click to see the first trademark application and the second trademark application. Keyboard Cat's stardom has led to numerous appearances in commercials, including a feature role in a national Starburst candy television commercial.
Nyan Cat is a cartoon character with a cat's face with a Pop Tarts body, basically a pink frosting sprinkled horizontal breakfast bar with glitter and a rainbow flowing therefrom. The GIF animation has also gone viral and it was the fifth most-watched video on YouTube in 2011, winning the 2012 Webbys' "Meme of the Year" award. Torres also registered the copyright in the animated GIF with the US Copyright Office, but the complaint incorrectly repeats Keybaord Cat's copyright registration number. Torres has also filed a trademark application to register the "Nyan Cat" word mark with the US Patent & Trademark Office.
Plaintiffs accuse Warner Bros and 5th Cell of including, without any licenses or authorizations, the Keyboard Cat character in their original Scribblenauts videogame released in 2009, the 2010 Super Scribblenauts, 2011 Scribblenauts Remix, and including both Keyboard Cat and Nyan Cat in 2012 Scribblenauts Unlimited. Defendants are accused of shamelessly using "Nyan Cat" and "Keyboard Cat" by name to promote and market their games. Plaintiffs claim that Warner Bros and 5th Cell's trademark infringement was willful and intentional and are requesting an award of treble damages and requesting the case be deemed exceptional under 15 U.S.C. § 1117(a), thereby entitling Plaintiffs to an award of reasonable attorneys' fees.
CORRECTION TO COPYRIGHT DAMAGES BELOW: Nyan Cat first appeared in Scribblenauts Unlimited in 2012, a year after Nyan Cat's copyright registration date. Thus, Nyan Cat is entitled to statutory damages, enhancement thereof, and attorneys' fees and costs. The follwing paragraph only applies to Keyboard Cat.
Plaintiffs, however, mistakenly demand statutory damages and an enhancement of damages under 17 U.S.C. § 504, and mistakenly believe that they are entitled to attorneys' fees and costs of suit under 17 U.S.C. § 505. Defendants are accused of infringing both copyrights in their initial 2009 release of the video games and neither copyright was registered until 2010. Thus, neither Plaintiff is entitled to statutory damages or attorney's fees, a prerequisite of which – per 17 U.S.C. § 412 – is either registration before (1) commencement of any infringement or (2) within three months after the first publication of the copyrighted work. Further, the Keyboard Cat video was published over five years before the application to register the copyright was filed, thus it is not entitled to a presumption of validity afforded by 17 U.S.C. § 410(c).
A copy of the complaint is available here.
The case is Schmidt, et al. v. Warner Bros. Entertainment, Inc., CV13-02824 JFW (C.D. Cal. CV13-02824).