Los Angeles, CA –Patent attorneys for Manhattan Beach based Skechers U.S.A. filed a patent infringement, trade dress infringement, and Lanham Act § 43(a) unfair competition (15 U.S.C. § 1125) complaint at the Federal District Court in Los Angeles.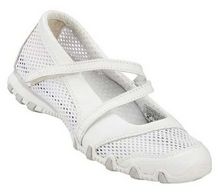 Skechers asserts that it is the owner of a distinctive trade dress in the appearance and features of its Biker-Sightsee™ Series of footwear/shoes. "Skechers has expended substantial effort and funds in promoting the goodwill of the Skechers Biker-Sightsee™ Series in developing a consumer association of the Biker-Sightsee™ Series as emanating from Skechers. It has expended many millions of dollars promoting and advertising its Bikers-Sightsee™ Searies footwear. It has entered into agreements with celebrities such as American Idol Winner Carrie Underwood and platinum recording star Ashlee Simpson to appear in ads featureing the Biker-Sightsee™ Series footwear."
As additional intellectual property protection for its shoe design, the U.S. Patent & Trademark Office issued U.S. Patent No. Des. 532,962 to Skechers. Skechers alleges that the Defendant was sent notice that its shoe design was infringing on Skechers' patent and trade dress rights and that Defendant replied that it would modify its shoe design and stop selling the shoes at issue. The Defendant, however, has allegedly not ceased selling the infringing shoes, thereby forcing litigation. The case is titled Skechers U.S.A., Inc. v. Aetrex Worldwide, Inc., CV 08-03831 GAF (C.D. Cal. 2008).
PRACTICE NOTE: Skechers has used both design patents and trade dress rights to protect its shoes' designs. Trade dress protection continues in the design so long as the trade dress is being used by the owner; whereas, design patents expire after fourteen years. Thus, although Skechers' design patent will eventually expire, Skechers will still be able to prevent the copying of its shoe design through asserting its trade dress rights – assuming they are not abandoned in the future.