Los Angeles, CA – Trademark attorneys for "cookie diet" franchisees filed a trademark infringement, unfair competition (15 U.S.C. § 1125), breach of franchise agreement, and fraud lawsuit at the Federal District Court in Los Angeles. Plaintiffs are area franchisees and franchise representatives of the "Cookie Diet," a medically supervised weight loss program. Defendants are the franchisors and licensors of the weight loss program, which in its California Uniform Franchise Offering Circular ("UFOC") was described as a "medical-based physician monitored and supervised weight reduction and weight management program." Plaintiffs are the franchise representatives throughout the State of California.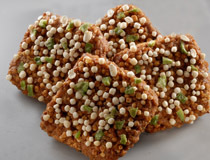 Plaintiffs allege that the Franchisor Defendants represented that the heart of the weight loss system was a diet based upon proprietary cookies, shakes and soups developed by Dr. Sanford Siegal. "The key to the weight loss concept was that a patient/customer had to maintain a diet of approximately 800 calories per day, half in a single 400-calorie mean, and the other half by eating six dietary 'cookies' throughout the day." Because of the drastically low daily caloric intake, "physician supervision was a core component of Dr. Siegal's diet system." In 2002, the Franchisor Defendants entered into an agreement to license Dr. Siegal's name, trademarks, and trade names. In return, Dr. Siegal was to be the exclusive supplier of cookies to the Franchisor Defendants. Dr. Siegal maintained rights to use the trademarks and system in Florida, but agreed to not compete with the Franchisor Defendants in the United States.
The complaint alleges that the Defendant Franchisors made fraudulent representations to induce Plaintiffs to enter into the franchise agreement, one such representation was that Dr. Siegal was part of the franchise and was contractually obligated to support franchisees and not compete with them. The Plaintiffs allege that the Defendants unilaterally terminated their licensing agreement with Dr. Siegal when the cookies were not consistent, instead of working with him to correct production, which Defendants knew would result in Dr. Siegal's ability to compete with Plaintiffs and terminate the license to "Dr. Siegals" trademarks. Also, the complaint continues, Defendants tried to replicate the cookies themselves "through a trial-and-error process that used the franchisees and their patients as guinea pigs. Instead of exercising quality control, [Defendants] shipped each batch of cookies regardless of whether it suppressed appetite or how it tasted" and which did not bear required nutritional labels that complied with Federal laws. Further, as a result of the termination of Dr. Siegal's agreement, Dr. Siegal sued the Defendants in Florida to stop them from using the "Cookie Diet" name and the Court granted a preliminary injunction enjoining Defendants and their franchisees from using the "Cookie Diet."
Defendants and Dr. Siegal entered into a settlement agreement in the Florida case that allowed Dr. Siegal to compete throughout the United States and contained terms that were unfavorable to Plaintiffs. Plaintiffs also allege that Defendants developed a higher caloric cookie diet that did not require physician supervision and began competing with Plaintiffs, allowing Defendants to sell cookies on-line and eliminating the need for brick and mortar stores with physicians. The case is titled Scientific Weight Loss, LLC v. U.S. Medical Care Holdings, LLC, et al., CV08-02852 PSG (C.D. Cal. 2008).