Los Angeles, CA – Trademark attorneys for Pinkberry filed several trademark infringement and Lanham Act 43(a) unfair competition lawsuits, at the Los Angeles Federal District Court, against several frozen yogurt competitors. Pinkberry's "frozen yogurt" treats are all the rage, which I don't quite understand. I would much rather have my frozen yogurt at The Bigg Chill, which has been serving frozen yogurt with your choice of toppings for at least fifteen years and whose parking lot entrance literally causes a parking lot on Olympic Boulevard with the ant-like row of cars waiting to park. But I digress. Pinkberry asserts that it began serving its "frozen yogurt" treats in 2005 and has recently registered its trademarks with the U.S. Patent & Trademark Office. One registered trademark is for the "Pinberry & Stylized Leaf and Berry Swirl Design," which is illustrated herein.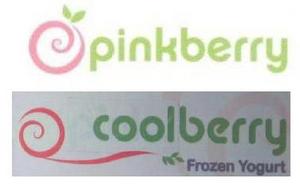 The complaint alleges that Defendants took a Pinkberry banner and used it to promote, advertise and sell Defendants' products. "Specifically, Defendants covered and replaced 'PINK' with 'COOL' in the same stylized font and color to create a COOLBERRY banner that was posted and displayed on Defendants' restaurant door."
Although it appears that the Defendants may have used a modified Pinkberry banner, all may not be lost for the Defendants. As the Los Angeles Times reports, "Pinkberry was on the receiving end of a lawsuit this year filed by customers who contended that the popular treat might not be frozen yogurt. That case was settled in April, with Pinkberry giving $750,000 to two Southern California charities as part of the deal. It also began mixing its yogurt at a dairy, not in-store, and disclosed its ingredients online." (Read L.A. Times Article) If in fact Pinkberry was not selling "frozen yogurt" and was violating food labeling laws, the validity of its trademark registrations may be comprised based on its representations to the USPTO. There are also allegations that Pinkberry indeed copied its store designs and frozen yogurt concept from Korea based Red Mango, noting that the owners of Pinkberry are Korean immigrants. (See HERE).
The case is titled Pinkberry, Inc. v. Monkee's Teriyaki, Inc. and Yonghee Kim, CV08-05924 VBF (C.D. Cal. 2008).
The other Pinkberry cases, filed in Los Angeles Federal District Court, are titled:
Pinkberry, Inc. v. Pingo Foods Corporation, CV08-05926 R (C.D. Cal. 2008).
Pinkberry, Inc. v. Peachberry Yogurt, Inc., CV08-05927 GW (C.D. Cal. 2008).
Pinkberry, Inc. v. JTRA, LLC, CV08-05930 SVW (C.D. Cal. 2008).