An intellectual property lawsuit was filed on January 30, 2008 in Los Angeles Federal District Court, by Paige Premium Denim against Mervyn's department store over the sale of allegedly infringing jeans which incorporated the plaintiff's designs. Plaintiff was founded by Paige Adams-Geller, a former Miss California and a jeans industry model. Paige's jeans bear original and distinctive stitched rear pocket designs, some of which have received copyright registrations and function as Paige's trade dress. Paige's jeans have been featured on nationally televised shows such as The Tyra Banks Show, Daily 10, and Inside Edition.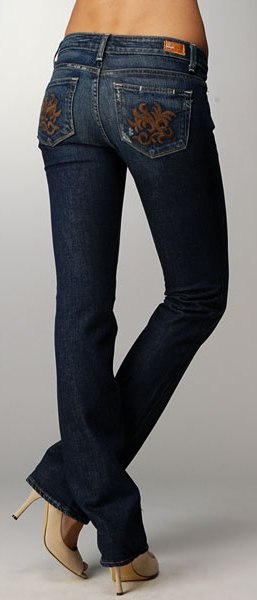 The complaint alleges that in disregard of Paige's exclusive rights in the designs, Mervyn's is copying the copyrighted stitching designs and confusingly similar designs. Paige also contends that Mervyn's conduct was willful and intentional and that Mervyn's products are of inferior quality. The lawsuit sets forth five causes of action and seeks a preliminary injunction and a permanent injunction of Defendants' alleged conduct:
First, copyright infringement under 17 U.S.C. § 501, where Defendant's access and copying is alleged based on the voluminous sales of Paige's jeans and the stitch designs, and seeking full costs of suit pursuant to 17 U.S.C. § 505;
Second, false designation of origin in violation of Section 43(a) of the Lanham Act, 15 U.S.C. § 1125(a), for infringing on Paige's trade dress rights by causing confusion among consumers that Paige "authorized, originated, sponsored, approved, licensed or participated in" defendant's use of the stitch designs on defendant's jeans;
Third, violation of state trademark dilution and injury to reputation, California Business & Professions Code § 14330, because Mervyn's use of Pagie's trademark and/or trade dress "is causing a likelihood of dilution because Paige's trade dress is deprived of its exclusive capacity to identify Paige;"
Fourth, California unfair competition and unfair business practices in violation of the Cal. Bus. & Prof. Code, § 17200, et seq.; and
Firth, infringement of Paige's California common law trademark and/or trade dress rights.
PRACTICE NOTE: Although copyright laws currently protect patterns and designs printed on or stitched into the fabric, copyright protection is not currently available to protect fashion designs themselves (i.e. the cut, style, or dimensions of clothing). However, the Design Piracy Prohibition Act (H.R. 5055) bill is currently pending in congress that, if enacted into law, will provide three years of protection for the fashion design if certain conditions are met. Click Here To Read About The Bill.