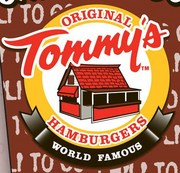 Los Angeles, CA – Tomdan Enterprises, Inc., which does business under the more recognizable "Tommy's Original World Famous Hamburgers" name and trademark, filed a trademark and trade dress infringement, Lanham Act unfair competition, and trade secret misappropriation lawsuit against Tommy's Original Chili Factory, Inc., and several individual defendants. Plaintiff has been in the restaurant business for the last fifty years, serving up hamburgers, cheeseburgers, hot dogs, and – my favorite – chili cheese fries, among other food items. Plaintiff alleges that it adopted the Tommy's trademark in 1960 and registered the trademark with the California Secretary of State in 1978.
Plaintiff's burgers and dogs are always served with chili, except when a patron specifically requests it be excluded. I have heard that consumption of a Tommy's burger with a side of chili-cheese fries in the wee hours of the morning, after a night of libations with college friends, are warranted to reduce any morning-after negative side-effects. A side of extra pickles is believed to further suppress any hang-over symptoms. For those not familiar with the structure of a Tommy's cheese burger, an element by element depiction is provided herein.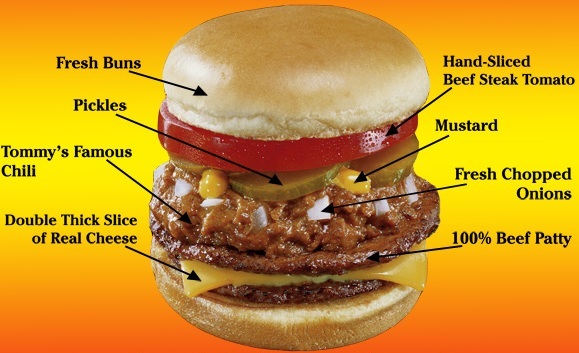 Plaintiff alleges that Defendants were aware of Plaintiff's Tommy's mark and trade dress, but adopted a mark, logo, and trade dress that are confusingly similar to Plaintiff's. Plaintiff alleges that Defendants have misappropriated Plaintiffs proprietary and trade secret information in the form of its recipes, including, but not limited to, its chili. Plaintiff allegedly sent a cease and desist letter – through counsel – to Defendants in December of 2008. But Defendants have allegedly refused to stop their activities. The case is Tomdan Enterprises, Inc. v. Tommy's Original Chili Factory, Inc. et al., CV 09-3960 JSL (C.D. Cal. 2009).