Defendant Palliser Furniture's manufacture and sale of a theater chair under the trademark "The Eastwood" did not make the Dirty Harry star's day and a trademark infringement suit was filed in the U.S. District Court in Los Angeles, California. The trademark lawsuit probably didn't make the Canadian defendant's day either, especially because Palliser had only recently also been sued by the estate of the late Marlon Brando for a theater chair which it sold under the trademark "The Brando."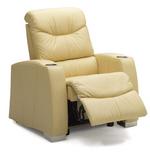 The complaint explains that Clint Eastwood is very selective in the use of his name, image, and likeness and did not authorize Palliser's use of "The Eastwood" designation. In addition to the federal Lanham Act (15 U.S.C. § 1125) claim, the complaint adds a cause of action for misappropriation of name in violation of California Civil Code § 3344, where the use of the "Eastwood" name for commercial gain and profit was not authorized or licensed by the plaintiff. To round up the good, the bad, and the ugly, the complaint adds a common law claim for misappropriation of name or likeness.
In addition to a preliminary and permanent injunction, Eastwood seeks statutory damages under 15 U.S.C. § 1117(a) for the defendant's profits and for costs of the litigation. And to make the case a million dollar baby, Eastwood asserts that Palliser's knowing and willful conduct makes the case exceptional, thereby entitling Eastwood to treble damages and attorneys' fees.
PRACTICE NOTE: The complaint also alleges that Palliser chairs with other famous celebrity last names, "The Connery," "The Bronson," "The Cagney" and "The Cooper." You should usually not adopt a celebrity's name as a trademark for your products because it is highly likely to lead to litigation. If your business resources can best be utilized in other areas to promote your business, CLICK HERE to read our article on selecting a proper trademark that will reduce the likelihood of ending up in court.