Former World Wrestling Entertainment ("WWE") wrestler the "Ultimate Warrior" (he has legally changed his name to Warrior) filed a trademark infringement lawsuit against video game maker THQ, Inc. for infringing on Warrior's USPTO registered trademarks, service marks and common law trademarks. Warrior has registered trademarks and service marks for "Ultimate Warrior," "Generation Warrior," and "Warrior" with the U.S. Patent & Trademark Office. Warrior also owns a design trademark registration for his logo, which includes his wrestling costume and face paint design. In 2003, the parties entered into negotiations to license intellectual property rights associated with Warrior, but the negotiations terminated without finalizing an agreement.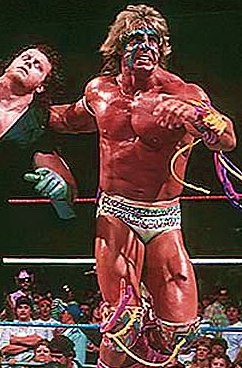 THQ later produced a wrestling video game that allowed players to create their own character or select from real-life wrestlers. The create-a-wrestler feature allows a player to select the wrestler's appearance, select a name ("Warrior" was an option), assign signature wrestling moves, including entrance moves into the ring, and entrance music. Plaintiff argued that the video game allowed players to create a wrestler that "has a similar build, face paint, and logo symbol as Warrior, that uses the entrance and finishing moves" and the same name "The Warrior" or "Warrior." Defendant conceded that players exchange information on the internet on how to build "The Warrior" character and that it issued "a preliminary marketing document stating that Warrior would be in Defendant's 'Day of Reckoning' video game was released on April 1, 2005, but was then retracted."
Plaintiff filed a complaint against THQ alleging infringement of a registered trademark, false designation of origin of an unregistered trademark or trade dress, and infringement of common law trademark. THQ basically argues that it was fair use and it did not take any affirmative actions that would make it liable for trademark infringement. Defendant moved for summary judgment of non-infringement, or in the alternative, partial summary judgment. Click To Read The Order.
Defendant argued that "Warrior" is descriptive and Defendant was using the term in a descriptive sense and there was no likelihood of confusion. The Court slammed Defendants argument by holding that the mark was registered and protectable and there was a high likelihood of confusion because it is the same exact word and used for a wrestling character, the exact use for which the mark was registered. Defendant argued that its use of the "bat like" symbol was generic, not exactly the same as the Warrior's symbol, and was not likely to cause confusion. The Court ruled against the Defendant's arguments because the logo did not have to be exactly the same and the fact that the games were geared to wrestling fans was likely to cause confusion.
The Court also quickly disposed of Defendant's "fair use" defense: "[d]espite this assertion, the Court finds that a jury could find that neither the mark nor the similar symbol was used in good faith based on the prior, unsuccessful negotiations between the parties." If the case does not settle, it will proceed to trial where – based upon the Court's findings on summary judgment – a jury is likely to find infringement.