UPDATE April 15, 2009: Judge denies SureFire's motion to stop Advanced Armament's Silencer Advertising. Read details here.
Santa Ana, CA – SureFire, LLC manufactures gun silencers (suppressors) and other related products for use with firearms. SureFire filed a Lanham Act, 15 U.S.C. 1125(a), false advertising claim at the Central District of California (Santa Ana Division) against Advanced Armament Corp. ("AAC"). The lawsuit arises out of a comparative advertisement by AAC which features cutaway views of two side-by-side silencers. The advertisements have allegedly been published in magazines such as Combat Hanguns, Guns & Weapons for Law Enforcement, and Tactical Weapons.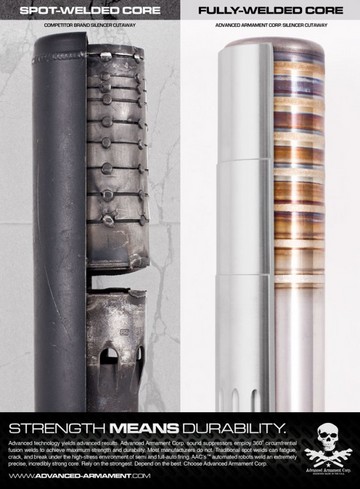 The complaint alleges that although the pictured product is identified as a "Competitor Brand Silencer," it is immediately and distinctively identifiable as a SureFire suppressor. Further, "the SureFire suppressor shown in the comparative advertisement has been subjected to extremely heavy use and has been modified to enhance the impression that its components have broken and/or separated." Whereas "the [AAC] suppressor shown in the comparative advertisement has not been used." The complaint asserts that the comparative advertisement creates the false impression that welds used on suppressors manufactured by ACC will not fatigue or crack, are stronger and more durable, and SureFire's suppressors are unreliable and likely to fail during ordinary use. Moreover, the complaint takes exception to the test data which provide "independent verification" of the decibel reduction figures provided on the "independent website" silencertests.com. SureFire alleges that the website is owned by an individual that currently designs suppressors for defendant and is not truly independent. The case is titled SureFire, LLC v. Advanced Armament Corp., SACV 08-1405 DOC (C.D. Cal. 2008).