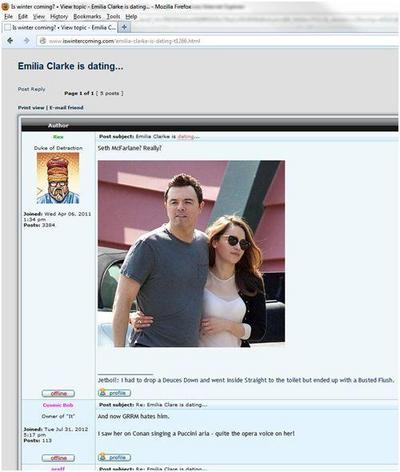 Photo agency BWP Media has recently filed over fifty copyright infringement lawsuits against numerous websites alleging posting of infringing photographs. In one case, its attorneys filed a copyright infringement complaint against Crowdgather, the owner of the www.iswintercoming.com website (actually more of a discussion board), where users generate topics and content relating to HBO's "Game of Thrones" series and/or George R.R. Martin's novels on which the series is based. The photograph at issue appears to be uploaded by a user to a forum discussing Emilia Clarke's (Daenerys Targaryen, queen of dragons) love life with Seth MacFarlane, actor/creator of Family Guy and Ted. A screenshot of the discussion forum with the post of the allegedly infringing photograph is shown to the right.
BWP alleges that it is the copyright owner in the subject photograph, although a search of the Copyright Office database shows Pacific Coast News is the owner. Nevertheless, assuming BWP can establish standing to file suit, the complaint is devoid of any allegation that a DMCA takedown notice, pursuant to 17 U.S.C. § 512(c)(3), was sent to Crowdgather's copyright agent. Under Section 512, a website operator is not liable for copyright infringement if (1) it did not have knowledge of the user-generated infringing content, and (2) as long as it designated a copyright agent to receive takedown notices on a form submitted to the Copyright Office. Even after the website operator receives a takedown notice identifying infringing content, it can avoid liability if it "acts expeditiously to remove, or disable access to, the material." UMG Recordings, Inc. v. Veoh Networks, Inc., 718 F.3d 1006 (9th Cir. 2013).
Because BWP does not allege that it sent a takedown notice, it instead baldly contends that based on the "totality of circumstances, CROWDGATHER, INC. cannot claim that it is not aware of the widespread infringing activities, including the Infringement(s), on the Website. Such a claim would amount to willful blindness to the Infringement(s) on the part of CROWDGATHER, INC." The complaint, however, does not appear to provide sufficient information to pass a Rule 12(b)(6) motion to dismiss by baldly claiming "widespread infringing activities" when it can only identify one allegedly infringing picture or accusing Crowdgather of direct infringement when the screen shot shows that a user generated the post bearing the picture. In 2007, the Supreme Court's Twombly decision stated that under Rule 8(a)(2) a plaintiff's obligation to provide the grounds for relief "requires more than labels and conclusions, and a formulaic recitation of the elements of a cause of action will not do." Bell Atlantic Corp. v. Twombly, 550 U.S. 544 (2007). In 2009, the Supreme Court's Iqbal decision expanded the application of Twombly to all civil cases. Ashcroft v. Iqbal, 129 S.Ct. 1937 (2009). Thus, a complaint will be dismissed under Rule 12(b)(6) if it fails to meet the Twombly pleading standard. See e.g. Xcentric Ventures, LLC v. Mediolex Ltd., 2012 U.S. Dist. LEXIS 152781, *18-21 (D. Ariz. Oct. 24, 2012) (dismissing copyright infringement claim with leave to amend where defendants likely entitled to safe harbor protection).
BWP's trolling ways permeates its non-traditional takedown notices because they lack some Section 512(c)(3) elements, choosing to instead include a scary draft copyright infringement complaint. A discussion board website, Fairfax Underground, received such a notice, more akin to a blustering copyright infringement cease and desist letter, where, in contravention to the DMCA, the letter contends that "simply ceasing to use the copyright material does not absolve you of the responsibility to pay for the material you have already used without a license." Hopefully BWP's copyright strategy will soon replicate Righthaven's and Prenda Law's demise.
The case is BWP Media USA, Inc. v. Crowdgather, Inc., CV13-05318 MAN (C.D. Cal. 2013).