Los Angeles, CA – In response to Carroll Shelby's trademark lawsuit (details blogged here), Factory Five Racing's attorneys filed a motion to dismiss and set out Factory Five's version of events, because this isn't the first lap around the track between the parties. Eight years ago, Shelby sued Factory Five in the District of Massachusetts over the sale of replica kits of the 427 Roadster and Type 65 Coupe. The Massachusetts case settled with an entry of a consent judgment and injunction, wherein Shelby dismissed his claims of trade dress infringement with prejudice with respect to Factory Five's kit cars, including the 427 Roadster and Type 65 Coupe and Factory Five agreed to refrain from using certain word trademarks. In addition, to avoid future litigation based on trivial alleged violations, the consent judgment contained a thirty-day cure provision after receiving written notice of any alleged violation.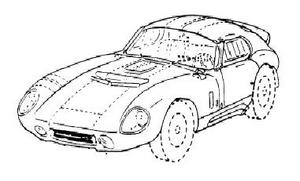 After the Factory Five lawsuit, Shelby sued another party, Superformance International, in Massachusetts asserting the Cobra trade dress. Unfortunately for Shelby, he lost on summary judgment and the court found that Shelby did not have any trade dress rights in the Cobra vehicle design.
Similarly, Factory Five's motion first requests dismissal under the doctrine of res judicata, i.e. the matter has already been judged and cannot be relitigated, because the trade dress claims were dismissed with prejudice. Langton v. Hogan, 71 F.3d 930, 935 (1st Cir. 1995) ("A judgment that is entered with prejudice under the terms of a settlement, whether by stipulated dismissal, a consent judgment, or a confession of judgment, is not subject to collateral attack by a party or a person in privity, and it bars a second suit on the same claim or cause of action.")
Factory Five then argues that Shelby's case should be dismissed because he failed to provide the thirty day notice and opportunity to cure the alleged violation of the consent judgment. Shelby filed the lawsuit on December 1, 2008 and then sent a letter to Factory Five on December 23 providing the required written notice of the violation. Within thirty days of receiving the letter, Factory Five removed the allegedly infringing meta tags and links to other objectionable websites. Thus, Factory Five argues that Shelby's trademark and unfair competition claims are moot.
Finally, Factory Five argues that the case should either be dismissed or transferred to Massachusetts to allow the original court to interpret and enforce its own judgment. "[I]t is well established that the issuing court is the court that should interpret and enforce its own injunctions. Baker by Thomas v. GMC, 522 U.S. 222, 236 (1998) ('Sanctions for violations of an injunction, in any event, are generally administered by the court that issued the injunction.')" Read Motion Here.
Factory Five's motion should be granted. The case is titled Carroll Shelby v. Factory Five Racing, Inc. et al., CV 08-07881 CAS (C.D. Cal. 2008).