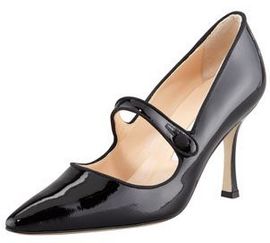 In a trademark infringement and counterfeiting lawsuit, Manolo Blahnik is asking the court to transfer control of websites selling counterfeit Manolo Blahnik shoes and accessories and to freeze Defendants' assets and bank accounts. The identities of the defendants and the websites are currently sealed to prevent advanced notice to the accused defendants, who may use the information to transfer or conceal assets. The complaint alleges that Defendants create internet stores by the hundreds and design them to appear to be selling genuine products, while actually selling low-quality counterfeit Manolo Blahnik products to unknowing consumers. "Internet websites like the Defendant Internet Stores are estimated to receive tens of millions of visits per year and to generate over $135 billion in annual online sales." Manolo Blahnik claims it is forced to file these actions to combat Defendants' counterfeiting of its numerous USPTO registered trademarks, as well as to protect unknowing consumers from purchasing counterfeit products over the Internet.
Manolo Blahnik asserts that its trademarks are so famous that it has become a fabric of pop culture, whereby its shoes have been featured on many television shows including Sex and the City where Carrie Bradshaw begged a mugger to "take my Fendi handbag, my ring and my watch, but please don't take my Manolo Blahniks!" Accordingly, Plaintiff does not wish defendants' websites to steal Manolo Blahnik's goodwill created over the years with its consumers and requests the Court – without prior notice to defendants – to issue:
(1) a temporary restraining order against Defendants temporarily enjoining the manufacture, importation, distribution, offer for sale and sale of Counterfeit Manolo Blahnik Products; (2) an order temporarily transferring Defendants' Domain Names to Manolo Blahnik so they can be disabled; (3) an order temporarily restricting transfer of Defendants' assets to preserve Manolo Blahnik's rights to an equitable accounting; (4) an order for expedited discovery allowing Manolo Blahnik to inspect and copy Defendants' records relating to the manufacture, distribution, offer for sale and sale of Counterfeit Manolo Blahnik Products and Defendants' financial accounts; and (5) an order allowing service by electronic mail and electronic publication at the Defendant Domain Names.