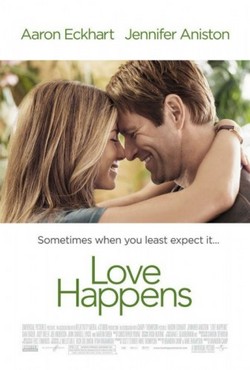 Los Angeles, CA – Screenwriters Greg D. Crowder and Tony Freitas sued (complaint available here) NBC Universal and sought a temporary restraining order against the release of the movie "Love Happens," starring Jennifer Aniston. Since the movie was released last weekend, you can probably guess that Plaintiffs were unsuccessful. Plaintiffs alleged that in 2006 a copy of their screenplay "Truth Tells No Lies" was given to Scott Bernstein, the Vice President of Production for Universal Pictures. Bernstein met with Plaintiff Crowder and allegedly stated that the screenplay was well written but "it was a little dark in tone, and that, if it were rewritten to be a romantic drama or a romantic comedy with a budget in the range of $25-$40 Million, Universal would be interested in producing the film." On August 2, 2009, Plaintiff Crowder was accused of stealing the "Love Happens" project when he contacted another production company to review the "Truth" screenplay. On August 20, 2009 Plaintiffs registered their screenplay with the U.S. Copyright Office, but waited until a few days before the movie's release date before moving ex-parte for a temporary restraining order.
Defendants' opposition to the ex-parte application (copy available here) summed up the eleventh hour filing as follows: "In what can only be described as classic sandbagging, plaintiffs opportunistically waited until the very last moment the day that Love Happens had its premiere, and only three days before its scheduled release in some 1,900 theaters to ambush Universal with a massive set of moving papers, replete with expert declarations and hundreds of pages of exhibits. The gamesmanship evident in this TRO Application filed months after defendant NBC Universal first began advertising the film, and more than six weeks after plaintiffs admit they became aware of facts they cite as the basis for their claim is reason enough for its denial." Defendants presented evidence of independent creation of the script by two other authors in 2006 that did not have access to the Plaintiffs' script or have any contact with Bernstein.
The Court's order (copy available here) sided with the NBC Universal defendants and found that the defendants' evidence "cast serious doubt on Plaintiffs' ability to succeed on the merits. . . Indeed, upon careful examination of the competing screenplays at issue, it appears that the two are not at all similar, let alone substantially or strikingly similar. . . Furthermore, while Plaintiffs have based their application for temporary restraining order solely on their copyright claim, their remaining claims appear to similarly lack merit." After the Court's candid opinion of the Plaintiffs' case, the Plaintiffs – not surprisingly – immediately dismissed their complaint before Defendants could file an answer. The case was Crowder v. NBC Universal, Inc. et al., CV09-6681 ODW (C.D. Cal. 2009).