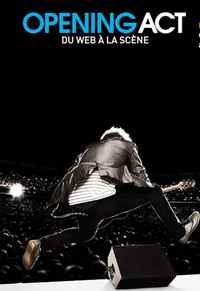 Reality TV writer Henry Haraway filed a copyright infringement and breach of contract case against E! Entertainment Television and William Morris Endeavor talent agency, just to name a few. To see the rest of the defendants and to read the entire complaint, click here. Plaintiff alleges that he wrote a one page synopsis for a reality TV competition called "Opening Act", described as "battle of the band type of competition local bands with dreams of big time recording contracts will battle it out for a chance to perform as the opening act for a major recording artist in their genre of music."
As any prudent writer should do, Plaintiff registered the synopsis with the U.S. Copyright Office in 2003. He then submitted it to E! Entertainment and executed its submission agreement. It's also alleged that William Morris and E! both executed an agreement confirming receipt of the synopsis and acknowledging that the material would not be used without compensating Plaintiff.
Unfortunately for Plaintiff, this appears to be an extremely tough case to win. Copyright law does not protect ideas, only the author's expressions of that idea. For example, one cannot protect an idea for a reality TV show where contestants sing and are voted off by either judges or viewers, otherwise American Idol would sue America's Got Talent. Similarly, the authors of the movie Tombstone could not sue the authors of Wyatt Earp, even though both movies told the story of Wyatt Earp and Doc Holliday and the shootout at the O.K. Corral. But if Wyatt Earp copied the script of Tombstone, a copyright infringement claim would arise.
Plaintiff's breach of contract claim against E! does not look promising either. The "Submission Agreement" referenced is E!'s form agreement wherein the submitting party agrees and acknowledges "that no contract or obligation of any kind, other than those arising pursuant to the express terms of the Agreement, is assumed by [E!] or may be implied against [E!] by reason of [E!'s] review of the Material and/or discussions or negotiations we may have." And it specifically states that the submission neither creates nor constitutes an implied-in-fact or implied-in-law contract regardless of industry norms.
The case is Haraway v. E! Entertainment Television, CV13-00628 FMO (C.D. Cal. 2013).