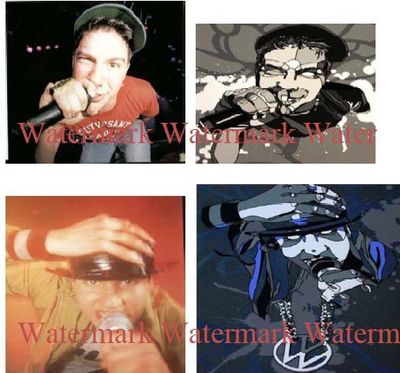 Artist David Flores is being sued for copyright infringement for using photographer Glen Friedman's pictures of the Beastie Boys to make derivative artistic works, some of the photographs and accused infringing works are reproduced to the right. Friedman also alleges copyright ownership in a photograph of famous skateboarder, Jay Adams, which copyright was infringed by Flores' derivative artistic work. Friedman contends that defendants engaged in widespread distribution of unauthorized copies of his copyrighted works. In addition to monetary damages, Friedman seeks his attorneys' fees.
The current images remind me of Shepard Fairey's "Obama Hope" posters, where Fairey was countersued for copyright infringement by the Associated Press for using one of its photographs to make his derivative work. After Fairey admitted to destroying evidence and was untruthful regarding which photo he used, Fairey settled the case for an undisclosed sum and his agreement to refrain from using AP photo's without a prior license. Two weeks ago, in the criminal case against Fairey, he plead guilty for disobeying a judge's order to not destroy evidence and lying to the court. He is to be sentenced on July 16, 2012.
On the other hand, the clothing company, One 3 Two, Inc., that used Fairey's work on T-shirts and its website continued the litigation with AP claiming that its use of Fairey's work did not infringe and was protected under the fair use defense. In a relatively short order, U.S. District Judge Alvin K. Hellerstein, denied One 3 Two's fair use defense: "I hold, however, that should the AP establish copyright infringement, One 3 Two does not have a basis to rebut the finding on the ground of fair use. I therefore grant [AP's] motion insofar as it seeks to pare the fair-use dense away from the case, but otherwise deny it." The AP was also seeking a finding of copyright infringement and a violation of the DMCA, which were not decided on summary judgment and must now proceed to trial.
The case is Friedman v. Flores, CV12-1840 JFW (C.D. Cal. 2012).