A copyright infringement, trade dress infringement (Lanham Act 43(a), 15 U.S.C. 1125), and unfair competition lawsuit was filed by luxury jeweler Van Cleef & Arpels against supermodel Heidi Klum's company and jewelry designer Mouawad USA, Inc. in Federal District Court in New York in December of 2007. The complaint alleges that for almost forty years, Van Cleef "has marketed the Alhambra collection of jewelry, which has become world renowned for its distinctive well-recognized design." Van Cleef alleges that it is the owner of all copyrights in the subject designs and, through extensive advertising and promotion of the Alhambra collection, it has established secondary meaning and distinctiveness therein.  Jewelry copyright registrations are relatively inexpensive and afford robust protections and damages.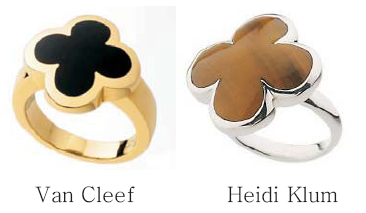 Van Cleef alleges that defendants intentionally and willfully copied the Alhambra designs, which mainly feature a four leaf clover. Van Cleef continues that defendants, by appropriating the goodwill built up by plaintiff are causing confusion in the market place, in that consumers are often confused between the plaintiff's designs and those of defendants.
It now appears that the lawsuit is going to be settled even before the Defendants file an answer to Van Cleef's allegations. On February 13, 2008, the parties asked the Court to adjourn the initial conference from February to April while they negotiate a settlement of the case.
PRACTICE NOTE: It is interesting that the case is settling so quickly because Van Cleef admits that one of its applications for copyright registration was refused registration by the U.S. Copyright Office. I would predict that it was refused registration because it was a mere depiction –without any elements of originality– of a four leaf clover that appears in nature. Even if the copyright claim fails, however, Van Cleef appears to have acquired distinctiveness in its four leaf clover jewelry to assert its trade dress infringement and unfair competition claims, which exist outside of the copyright claims.
Read a jewelry patent attorney's more detailed article on how to protect jewelry through both design patents and utility patents when copyright protection is unavailable.