PRACTICE NOTE: It would have been interesting to see how the Court would have ruled on a motion to dismiss Plaintiff's trade dress claim. Unfortunately, it was not part of Defendant's motion. (Read BNA article regarding the viability of website trade dress claims).
Los Angeles, CA – Legaljiffy.com sued rival website based legal document preparation company Legalcpu.com, Inc. for copyright infringement, trade dress infringement, and state unfair competition (details blogged here). Defendant moved to dismiss the copyright infringement claim and the § 17200 unfair competition claim ("UCL") because Plaintiff did not have a copyright registration and had failed to plead an injury in fact. Further, Defendant moved to strike Plaintiff's demand for statutory damages and attorneys' fees under the copyright act (17 U.S.C. § 412). Order available here.
PLAINTIFF'S WEBSITE FRONT PAGE: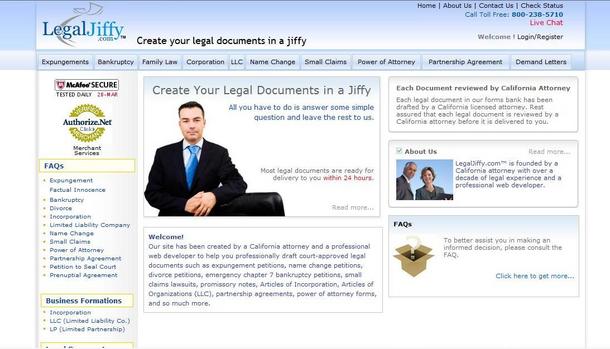 DEFENDANT'S WEBSITE FRONT PAGE: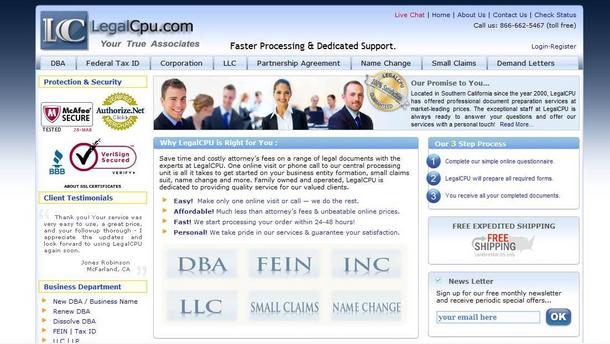 After Plaintiff had filed the complaint and nine months after commencement of the alleged infringement, it filed a copyright application with the U.S. Copyright Office. The Court noted that although the Copyright Office had yet to issue the registration, district courts in the Ninth Circuit were split as to whether a plaintiff could maintain its infringement claim while the application was pending: "Compare Loree Rodkin Mgmt. v. Ross-Simons, Inc., 315 F. Supp. 2d 1053 (C.D. Cal. 2004) (Rea, J.) (registration required), and Blackledge v. Cummings, CV 05-7782 PA (Ex) (C.D. Cal. Jan. 6, 2006) (Anderson, J.) (same) with Dielsi v. Falk, 916 F. Supp. 985, 994 n.6 (C.D. Cal. 1996) (Collins, J.) (registration not required) and Gable-Leigh, Inc. v. North Am. Miss, CV 07-1019 MMM (SHx), 2001 WL 521695, at *4 (C.D. Cal. April 13, 2001) (Morrow, J.) (relying on out-of-circuit authority and Dielsi footnote)." The Court agreed with the latter line of reasoning and denied the motion to dismiss the copyright claim. The Court, however, did strike the request for statutory damages and attorney's fees because Plaintiff held no registration prior to commencement of the alleged infringement.
Defendant asserted that the UCL claim is barred by Proposition 64's requirement of an injury in fact, as opposed to a disgorgement of a defendant's profits, and no injunctive relief was sought. The Court agreed and dismissed the UCL claim, also striking Plaintiff's request for "exemplary damages" under the UCL. The case is Legaljiffy.com, Inc. v. Legalcpu.com, Inc., CV 09-01867 AHM (C.D. Cal. 2009).