Street artist Thierry Guetta (aka "Mr. Brainwash"), featured in the documentary Exit Through the Gift Shop, is not a newcomer to copyright infringement claims relating to photographs of musicians. Almost a year ago, the Court found Guetta infringed photographer Glen E. Friedman's registered copyright in a photo of musicians Run DMC by using the picture as a base for pasting broken pieces of phonograph records thereto in creating his derivative work. In the process, the Court also found Mr. Brainwash was not entitled to a transformative fair use defense because it would eviscerate the intent of copyright law, i.e. the protection of original works.
Mr. Brainwash appears to be in hot water again. Photographer James J. Marshall's estate is suing Guetta and Google for copyright infringement over several photographs of musicians Jimi Hendrix, John Coltrane, Sonny Rollins, Thelonious Monk, Dizzy Gillespie, Gerald Wilson, Brian Jones, and Stanley Turrentine. Mr. Brainwash is accused of directly copying the images and adapting them without Plaintiff's permission and engaging in widespread self-promotion of the copies to the public, including selling the derivative works.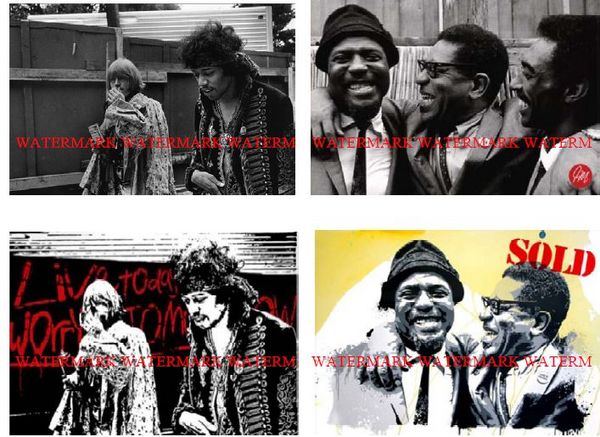 In addition, Thierry built or designed a backdrop in Los Angeles featuring huge blow-ups of the Coltrane and Hendrix images that Google used in an infringing manner to promote its "Google Music" service. Plaintiff also alleges that Google hosted a launch party and authorized others to photograph the infringing backdrop and to reproduce the images with Plaintiff's authorization, including hosting them on www.gettyimages.com. Plaintiff is demanding an accounting of Defendants' profits and/or Plaintiff's actual damages or statutory damages under the Copyright Act, which can be as high as $150,000 per registered work in cases of willful infringement.
The case is The Estate of James J. Marshall v. Thierry Guetta, et al., CV12-03423 SJO (C.D. Cal. 2012). Marshall's estate is represented by Douglas Linde, Friedman's attorney in the Run DMC case.