Watching the Cubs play at Wrigley Field is a nostalgic indication of summer (except for the playoffs), especially when cameras pan out to the bleachers and the rooftop spectators overlooking the field. The Chicago Cubs filed a trademark infringement and unfair competition lawsuit on February 15, 2008 to prevent rooftop facility owners from charging patrons to watch the game from the rooftops that overlook Wrigley Field. The Cubs sued numerous rooftop operators in 2002 for copyright infringement and several state causes of action. The previous lawsuit settled with the rooftop operators agreeing to give the Cubs 17% of their gross revenue. Last year, the rooftops reportedly raked in $18 million dollars, resulting in a windfall of about $3 million for the Cubs.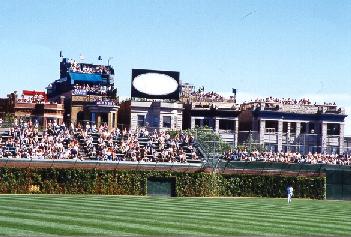 Tom Gramatis was one of the original defendants in the 2002 lawsuit and settlement agreement and he has recently built two additional buildings with rooftop seating. The Cubs allege that Gramatis breached their settlement agreement by not paying the agreed upon royalties and has not paid any royalties for the new buildings. Interestingly, the Cubs have dropped their dubious copyright infringement claim from this lawsuit – undoubtedly a lesson learned from 2002 – and only assert that Gramatis is infringing on the Cubs' trademarks and falsely advertising an association with the team in his promotional material and website. The Cubs allege that "Defendants' marketing efforts are, and have been, likely to cause confusion, to cause mistake or to deceive as to, inter alia, the affiliation, association or connection between Defendants and the Cubs and the Cubs' approval or sponsorship of Defendants' business activities." Chicago National League Ball Club, LLC v. Wrigley Rooftops III, LLC, 08-cv-968 (N.D. Illinois).
PRACTICE NOTE: In essence, the Cubs are trying to assert a copyright claim that they don't have. It is highly unlikely that the Cubs would settle the lawsuit if Gramatis agreed to market his rooftop facilities as "a high perch with a view of a game played with a ball, a bat, no steroids or HGH, a diamond field, where the team's logo incorporates a hibernating mammal." On second thought, he might be dragged before Congress with a false advertising charge for the "no steroids or HGH" quip.