Los Angeles, CA – Patent infringement and copyright litigation complaint over toy helicopters was filed in Central District Court of California, Los Angeles, by Hong Kong based Silverlit Toys Manufactory, LTD. and its Canadian distributor. Plaintiffs design, manufacture, develop, and market toy product for children and sell the toy under its federally registered trademark Air Hogs® Havoc Heli™ Helicopters, in addition to track racing systems, robot toys, and water toys. Plaintiffs have issued United States Patents on the toy helicopter: U.S. Design Patent No. 546,269; U.S. Design Patent No. 552,531; U.S. Design Patent No. 554, 040, and U.S. Design Patent No. 544,825. They also have a registered copyright certificate with the U.S. Copyright Office, Copyright Registration No. VAu694-351. Plaintiffs claim that "the Air Hogs® Havoc Heli™ Helicopters is an original decorative design that is easily distinguishable from traditional remote control toy helicopters" and has been recognized by "the Guinness Book of World Records as the world's smallest commercial toy remote control helicopter." Plaintiffs further allege that Air Hogs® Havoc Heli™ Helicopter was the number one best selling remote control toy of 2007.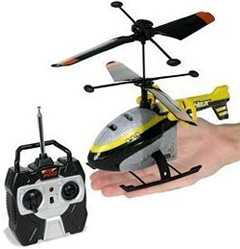 The defendants, Soft Air USA, Inc. and a subsidiary of Sports Authority, are accused of copying and selling toy helicopters that infringe on Plaintiffs' Air Hogs® Havoc Heli™ Helicopter's patents and copyrights. Plaintiffs allege that Defendants' helicopters are identical to the Air Hogs® Havoc Heli™ Helicopter that "Defendants' knock off helicopters were recently recalled after an investigation by the Consumer Product Safety Commission in response to consumer complaints that the rechargeable battery packs were catching fire." Plaintiffs continue that they were "bombarded with calls from customers who mistakenly believed that Defendants' inferior and dangerous knock off product was made by Silverlit." Plaintiffs allege that customers believed that the Defendants' voluntarily recall included the Air Hogs® Havoc Heli™ Helicopter and returned the genuine product to Plaintiffs. The case is styled as: Silverlit Toys Manufactoy, LTD v. Soft Air USA, Inc., CV08-01053 JFW (C.D. California).
PRACTICE NOTE: In order to preserve their good will and reputation with their customers and the public, it is important for intellectual property owners to immediately enforce their rights against infringers to stop the influx of unauthorized product of inferior quality.