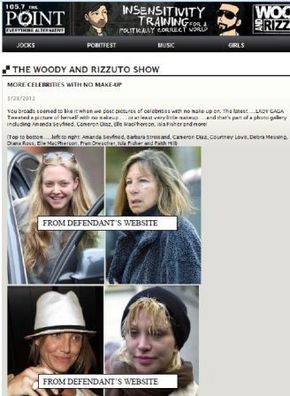 National Photo Group ("NPG") owns the copyrights to numerous celebrity photographs that it licenses to websites and magazines. NPG asserts ownership of registered copyrights and pending applications, but only provides a registration number for photographs of Isla Fisher and does not attach the copyright registration certificates to the complaint. Although it might seem tempting to file a motion for a more definite statement under FRCP 12(e), a district court recently denied a similar request. See General Sci. Corp. v. SheerVision, Inc., 2011 U.S. Dist. LEXIS 100216, 18-19 ( E.D. Mich. Sept. 2, 2011) ("According to the Supreme Court, two elements are required to assert a copyright claim: ownership of a valid copyright and copying of original parts of the protected work. Feist Publications, Inc. v. Rural Tel. Serv. Co., Inc., 499 U.S. 340, 361, 111 S. Ct. 1282, 1296, 113 L. Ed. 2d 358 (1991). Plaintiff's proposed Second Amended Complaint sufficiently pleads both elements. As a result, Plaintiff's copyright claim is not 'so vague or ambiguous that [Defendants] cannot reasonably prepare a response.'")
Defendant Emmis Communications operates numerous radio stations, including Power 106 KPWR in Los Angeles. Defendant also operates the radio stations' respective websites, including the subject 1057thepoint.com website. NPG accuses Emmis of posting celebrity photographs on the website in a post entitled "More Celebrities with No Makeup". The accused webpage appears to still be live, a partial screenshot of which is shown here. NPG alleges that Emmis received a financial benefit directly attributable to the infringement because "Emmis increased traffic to the Website and, in turns, its advertising revenues. In fact, Emmis saw a spike in traffic to the Website by over 10,000 unique visitors during the month it posted the Photographs." The webpage at issue, however, only showed a single comment by visitors regarding the posted photographs, which stands to reason that other factors may have caused the spike in traffic. With the proliferation of celebrity gossip websites, copyright lawsuits featuring celebrity photographs are also becoming more common.
Website operators that allow users to post content on their website (e.g. pictures, videos, or comments) can avoid copyright infringement liability under the Digital Millennium Copyright Act ("DMCA"), if the safe harbor provisions are followed, and are also protected against tort liability (e.g. defamation, slander, libel) by the Communications Decency Act. To enjoy the safe harbors of the DMCA, a website operator must designate a copyright agent on a form submitted to the Copyright Office along with the corresponding fee, provide terms of use that outline take down notice procedures to report allegedly infringing content, have no actual knowledge of the infringement, and expeditiously remove accused content.
The case is National Photo Group, LLC, v. Emmis Communications Corp., CV12-05989 RSWL (C.D. Cal. 2012).