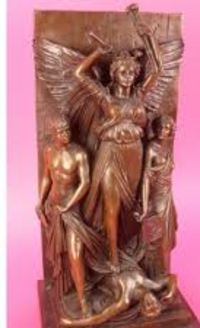 Having received two copyright infringement cease-and-desist letters, ThinkBronze filed a copyright declaratory judgment lawsuit against Wise Unicorn entities, which also includes offensive causes of action for misrepresentation of copyright infringement under 17 U.S.C. § 512(f) and trade libel. ThinkBronze imports from China bronze statues that it sells to customers via its own website and also through an online eBay store.
On July 18, 2011, Wise Unicorn's counsel sent a cease-and-desist letter identifying fifty six items sold by Plaintiff that allegedly infringed Unicorn's registered copyrights. Unicorn demanded Plaintiff immediately cease distribution and sale of the allegedly infringing statues, immediately remove the photos from its website, and surrender of the inventory for destruction. Plaintiff's counsel responded and challenged Unicorn's ownership claims because many of the sculptures were in the public domain and not entitled to copyright protection.
Unicorn withdrew its claims of infringement relating to several of the works and the parties engaged in settlement discussions. On June 7, 2012, however, Unicorn sent several takedown notices to eBay to remove listings for ThinkBronze's statues. Among the items listed in the takedown notice was the Michelangelo figurine for which allegations of infringement were previously withdrawn.
As an Internet Service Provider ("ISP"), eBay is immune from copyright infringement for user generated content that contains copyrighted material by the safe harbor provisions of the Digital Millennium Copyright Act ("DMCA"). To benefit from the immunity, the DMCA requires ISPs to act promptly to remove allegedly infringing works upon receipts of notice of infringement. Plaintiff contends that Unicorn's takedown notices were not issued in good faith, rather with the intent to damage and cause harm to Plaintiff.
The case is ThinkBronze, LLC v. Wise Unicorn Ind., Ltd., et al., CV12-5283 MMM (C.D. Cal. 2012).