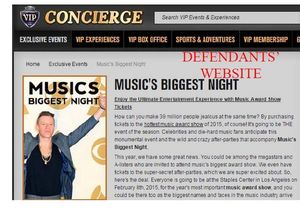 This is not your ordinary trademark infringement case. It involves Grammy Awards ceremony tickets, allegedly sold by now ex-Recording Academy member and trademark attorney – Matthew Blakely – to alleged swindler and trademark infringer Craig Banaszewski.
The dispute stretches back to 2012 when the Academy informed defendants that tickets to the Grammy awards were private, invitation only events and any unauthorized transfer or sale of the tickets was unlawful, would automatically void the tickets, and the ticket-holders would be deemed trespassers. Defendants complied with the Academy's take-down requests and the issue appeared resolved.
In 2013, however, attorney Blakely reportedly sold his non-transferable tickets for between $65,000 and $89,500. But when the purchasers were denied entry, they sued Blakely after he refused to refund their money. Blakely informed the Hollywood Reporter that Banaszewski claimed he was obtaining tickets to revive 80's and 90's rock bands' careers and Grammy appearances would be helpful. According to the Hollywood Reporter, "Blakely says he initially declined but then reconsidered after the guy 'reiterated interest in potentially funding the film projects for Blakely Legal clients.'"
Yesterday, the Recording Academy sued Banaszewski and Hollywood Entertainment Group, the operators of www.thevipconceirge.com, for trademark infringement, copyright infringement, false association and unfair competition, interference with contractual relationships, unfair or deceptive acts, and inducement of trespass. The Academy alleges Defendants are once again selling unauthorized tickets on their website for the February 8, 2015 Grammy Awards ceremony by using the Academy's MUSIC'S BIGGEST NIGHT® and GRAMMY® trademarks. Further, Defendants are accused of copyright infringement for their unauthorized use of the Gramophone Logo, which is registered with the U.S. Copyright Office, and photographs from prior Grammy Awards ceremonies.
The suit seeks unspecified damages, but demands punitive damages for defendants' alleged misconduct.
The case is National Academy of Recording Arts & Sciences, Inc. v. Hollywood Entertainment Group LLC, et al. CV15-0594 (C.D. Cal. 2015).