Los Angeles, CA – Trademark and copyright attorneys for Guru Denim, a subsidiary of True Religion Apparel, filed a trademark infringement, copyright infringement, and Lanham Act § 43(a) unfair competition (15 U.S.C. § 1125) complaint at the Federal District Court in Los Angeles to stop copying of its jeans and sales of fakes and counterfeits. Guru Denim has sought copyright, patent, and trademark protection on its garments and jeans. Guru Denim owns U.S. Patent No. D547530 for the stitch pattern applied to True Religion Brand Jeans pants. Guru Denim owns two U.S. Copyright Registrations for the True Religion Brand Jeans Designs, Copyright Certificate of Registration numbers VA1-192-834 and VA1-301-845.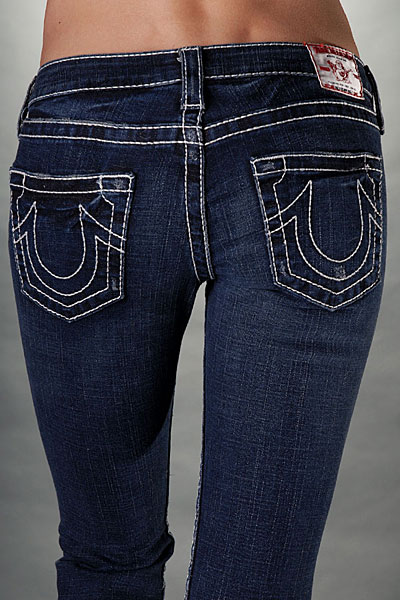 Guru Denim owns a USPTO registered trademark for the "True Religion Brand Jeans World Tour Fashion for the Senses Section Row Seat." Also, Guru Denim "owns registered United States trademarks in the pocket stitching pattern that appears on True Religion Brand Jeans pants and the overall stitching pattern on the front of True Religion Brand Jeans pants." Guru Denim also has 4 USPTO registered trademarks for "True Religion Brand Jeans" with assorted designs. Finally, Guru Denim has registered its "True Religion" word marks with the USPTO. Guru Denim's "line of 'super-premium' denim wear, which ranges in retail price from $170.00 to in excess of $300.00, is acclaimed in the fashion industry due to its famous name recognition which represents quality and distinguished craftsmanship. Each piece of clothing or pair of denim distributed under the Mark bears an emblem of a smiling Buddha strumming a guitar and, in some occasions, is elaborately embroidered."
Guru Denim discovered that numerous defendants were selling allegedly fake and counterfeit jeans on their Websites. The complaint asserts that Guru Denim's investigator purchased a True Religion pair of jeans from the denimbutt.com website for $129.00 plus a shipping cost of $1.95, where the defendant causes confusion by claiming that it is "committed to selling only first-quality, genuine designer fashions (sic) items, clothes and accessories." The complaint continues that Guru Denim's "inspection of the purchased item using security measures confirmed that the item Defendants sold to the investigator was in fact a counterfeit pair of True Religion Brand Jeans denim pants."
The complaint asserts the following causes of action: (1) Federal trademark infringement under 15 U.S.C. §1114; (2) Federal copyright infringement under 17 U.S.C. §501; (3) False designation of origin under 15 U.S.C. §1125(a); (4) Trademark dilution under 15 U.S.C. §1125(c) and California Business & Professions Code §14330; (5) Common law copyright infringement under California Civil Code §980; (6) Unfair business practices under California Business & Professions Code §17200; and (7) Unjust enrichment. The case is titled Guru Denim, Inc. v. Simon Halwani, et al., CV 08-02803 FMC (C.D. Cal. 2008).
PRACTICE NOTE: Guru Denim has used different forms of intellectual property to provide the broadest possible scope of protection to its products and business. Patent, trademark and copyright protection can overlap and protect different aspects of the same product and prevent unfair competition and infringing conduct that can affect your business.
The complaint lists the following additional defendants: thedenimbutt.com, Jeans & Company, Joymic Corp., Digitally Discovered, Joseph Barsano, thedenimspa.com, denimliquidators.com, denimbuys.com, Denim Buy Liquidators, Jizzle Tech, and lovebubbleclothing.com.