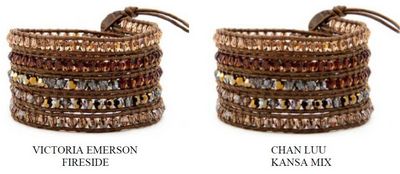 Chan Luu, Inc.'s jewelry trademark infringement, copyright infringement, and unfair competition lawsuit arises from Victoria Emerson's sales of wrap bracelets. Just this week two different jewelry designers inquired, after receiving cease-and-desist letters, whether jewelry designs were entitled to trademark and copyright protection. After explaining not only are jewelry designs entitled to copyright, trademark and trade dress protection, but also entitled to design patent and possibly utility patent protection, the enlightened jewelry designers recognized the value of obtaining intellectual property protection for their own designs. And now we return to our regularly scheduled programming.
Plaintiff contends that because of its extensive use of the Chan Luu trademark on jewelry, clothing, and accessories, consumers recognize the mark as a source of high quality products. Plaintiff also has several USPTO registered Chan Luu trademarks. In addition, Plaintiff allegedly owns the exclusive trademark rights to its purportedly distinctive curved oval button that serves as the closure for many of the bracelets, which it has used since 2002. Defendants are accused of using the curved oval button trademark in addition to using the Chan Luu trademark, including buying the word mark as an Adword.
The copyright infringement claim, however, is based on Chan Luu's registration of collections of photographs instead of copyright registrations for the jewelry pieces themselves. Defendants are accused of copying Chan Luu's product photographs and using the photographs on defendant's website www.victoriaemerson.com. Plaintiff seeks unspecified monetary damages in addition to preliminary and permanent injunction preventing Defendants' use of the copyright protected images and the Chan Luu word mark and the oval button trademark.
The district court in R.F.M.A.S., Inc. v. Mimi So, 619 F. Supp. 2d 39, 58-59 (S.D.N.Y. 2009) reconfirmed that jewelry collections, whether thematically related or not, may be registered as a single work:
Jewelry collections are eligible to be registered in a single work registration. This issue was recently discussed in Castaneda, where the defendants sought to invalidate the plaintiff's registration for a jewelry collection on the same grounds as those offered by the So Defendants. There the court held:

[J]ewelry collections properly fall under the category of single work registrations rather than group registrations…. [A] single work registration for a published work covers "all copyrightable elements that are otherwise recognizable as self-contained works, that are included in a single unit of publication, and in which the copyright claimant is the same." In this case, a collection of jewelry — usually a set of pieces thematically related and released for sale at the same time — can be deemed a single unit of publication.
Yurman Studio, Inc. v. Castaneda, 591 F. Supp. 2d 471, 492 (S.D.N.Y. 2008) (footnotes omitted).

While Castaneda states that a collection of jewelry is "usually a set of pieces thematically related and released for sale at the same time," id. (emphasis added), there is no requirement that the pieces must be thematically related. Rather, 37 CFR Section 202.3(b)(4) requires only that: (1) all copyrightable elements must be otherwise recognizable as self-contained works; (2) the items must be included in a single unit of publication; and (3) the copyright claimant must be the same. See Kay Berry, Inc. v. Taylor Gifts, Inc., 421 F.3d 199, 205 (3d Cir. Pa. 2005) ("The single work registration regulation is silent on whether the individual, self-contained elements of the 'single work' be 'related' in order to be registered. Instead, single work registration requires, in the case of published works, that all of the self-contained works be 'included in a single unit of publication' and share the same copyright claimant.").
The case is Chan Luu Inc., v. Brandshare, Inc. dba Victoria Emerson, et al., 13-CV-8210 (C.D. Cal. 2013).
Read a jewelry patent attorney's more detailed article on how to protect jewelry through both design patents and utility patents when copyright protection is unavailable.