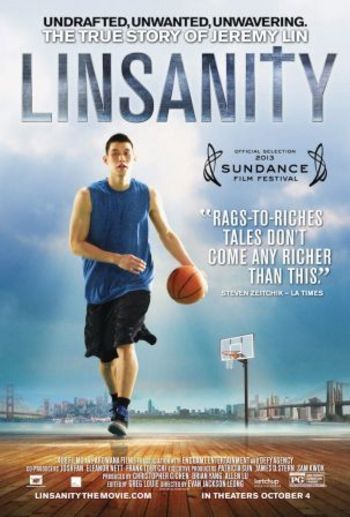 With Jeremy Lin's return to New York this week, the epicenter of the 2012 LINSANITY craze, Grantland published an article regarding Linsanity 2.0 and his basketball career with his new Houston Rockets team. Thus, I thought it was a good idea to revisit the status of the Linsanity trademark applications that flooded the U.S. Patent & Trademark Office after Lin's meteoric rise to pro-basketball fame. A Linsanity documentary chronicling his life has been made for goodness' sake.
Out of the eleven filed applications, nine have been abandoned because the applicants could not overcome the USPTO trademark attorneys' refusal to register the name or nickname of a living individual without his consent (15 U.S.C. §1052(c)) or because it creates a false connection with Jeremy Lin (15 U.S.C. §1052(a)). One pending trademark application belongs to Jeremy Lin, who despite his quickness on the court was the last to file a trademark application. The other currently pending application belongs to Andrew Slayton, the proud owner of www.linsanity.com, which he registered two years before the Linsanity craze erupted.
Because Slayton clairvoyantly registered the linsanity.com domain name in July of 2010, almost two years before Linsanity rocketed into the Knicks' lexicon, he claims that his use predates Lin's use of the trademark and the Section 2(a) false connection refusal is improper. Good argument, except Slayton bricks – worse than a Dwight Howard free-throw – the next argument by admitting that he registered the domain name and coined the term "to characterize fan Enthusiasm about Mr. Lin" while Lin was playing at Harvard. Slayton's next argument is an air-ball – worse than a Dwight Howard free-throw – because he claims that "Mr. Lin is not so famous that consumers are likely to associate [Linsanity] uniquely and exclusively with Mr. Lin." Before he hurt his knee, Linsanity and Lin were synonymous and even sports-averse media and individuals were discussing Lin and Linsanity ubiquitously.
The trademark examining attorney didn't buy Slayton's pump-fake arguments and made the refusal to register final. The examiner cut through Slayton's arguments like he was playing Mike D'Antoni coached defense, even the coach knows some people drop the "D" from his name because his teams lack any semblance of "D"efense. The examining attorney includes numerous references "indicating that the phenomenon known as 'LINSANITY' points unmistakably to Mr. Lin," including being voted to Time Magazine's world's 100 most influential people in 2012. The examiner then points out that Lin's last name is incorporated into the mark, "therefore the term LINSANITY is still essentially a reference to Jeremy Lin. Therefore, contrary to applicant's claim, goods bearing the term LINSANITY will be associated with Jeremy Lin." Thus, the mark was refused registration because it refers to a living person.
The examining attorney viciously and emphatically dunked on Slayton's false connection argument because the domain name registration pointed to Jeremy Lin and, for good measure, directly quoted a New York Post article: "Andew Slayton, 45, boasted to The Post: Slayton claimed that when Lin was tearing up the Ivy League for Harvard, "Linsanity" just popped into his head… 'I don't know what [Lin] thinks, but it's an homage to him,' Slayton said." Slayton has until January 12, 2013, to appeal the trademark attorney's refusal and hopefully he won't consult Jimmy Buss for any advice.