Los Angeles, CA – Patent attorneys for Minka Lighting shine a spotlight on Defendant's alleged patent infringement with a lawsuit filed at the Central District of California. Minka is in the business of designing, manufacturing, and selling home products, including ceiling fans. Minka sells the subject ceiling fan under the Como trademark and the U.S. Patent & Trademark Office issued U.S. Patent No. D476,728, entitled "Combination Ceiling Fan And Light Fixture" for the subject design.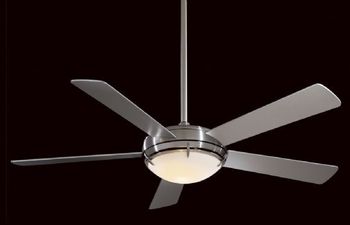 Defendant Regency Fans sells a lighted ceiling fan under the Spirit trademark, which is advertised on its website and elsewhere. The complaint alleges that "Defendant, without license from Minka, has sold and offered for sale and is selling ceiling fans to which the patented design of the '728 Patent or a colorable imitation thereof has been applied, including without limitation, Regency's ceiling fan sold under the Spirit mark." The complaint also incorporates by reference the patent infringement allegations as a basis for its California statutory (Cal. Bus. Prof. Code § 17200) and common law unfair competition causes of action. The case is titled Minka Lighting, Inc. v. Tacony Corporation d/b/a Regency Fan Corporation, EDCV 09-00234 SG: (C.D. Cal. 2009).
PRACTICE NOTE: It appears that the unfair competition claims are merely based on the patent infringement claim and should be dismissed as they are preempted. "Federal patent and copyright laws limit the states' ability to regulate unfair competition." Summit Mach. Tool Mfg. Corp. v. Victor CNC Systems, Inc., 7 F.3d 1434, 1439 (9th Cir. 1993). A plaintiff's state law claim must be "qualitatively different from a copyright or patent infringement claim" or else it is preempted. Id. at 1440.