Los Angeles, CA – Copyright attorneys for furniture company, C & C Imports, Inc., filed a copyright infringement lawsuit at the Federal District Court in Los Angeles, in an attempt to protect its bed, chest and wall hanging designs from being copied. Plaintiff manufactures and sells high-end furniture and in 1994 it manufactured a chest, headboard, and bed bearing the rainwater design. Plaintiff alleges that the rainwater design "is capable of being identified separately from and existing independently of, any useful article (such as a bed or chest) to which it may be applied. As the complaint states, however, the U.S. Copyright Office has disagreed with Plaintiff, and refused to register the copyright applications. The wall hanging application is still pending and being processed by the Copyright Office.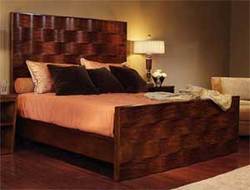 The complaint continues that "since approximately 2000, Defendants have been marketing and selling a bed under their 'OMNI collection' called the 'Wave Bed' [pictured herein], which bears an unauthorized reproduction of Plaintiff's Rainwater Design, in violation of Plaintiff's exclusive right to reproduce, display, create derivative works from and distribute its Rainwater Design."
Before reaching the infringement issue, the Court must decided whether the U.S. Copyright Office's refusal to register was improper and the work is subject to copyright protection, "Plaintiff seeks a determination that the Rainwater Design is protectable under the Copyright Laws of the United States and that Defendants have infringed that copyright…" The case is titled C & C Imports, Inc., dba Nancy Corzine v. Century Furniture Industries, Inc., CV08-03818 GAF (C.D. Cal. 2008).
PRACTICE NOTE: In order to recover statutory damages, attorneys' fees, and costs, the copyright in the work must have been registered before the commencement of the infringement or within three months from the date of publication. 17 U.S.C. § 412. In this matter, however, it appears that the works were published many years before the copyright applications were filed, thereby preventing recovery of statutory damages and attorneys' fees.