Los Angeles, CA – Zobmondo Entertainment would rather file a Lanham Act § 43(a) false advertising lawsuit over the term "original" than allow defendant to use the term. Zobmondo allegedly introduced the first board game in 1998 based on the traditional conversational "would you rather" game.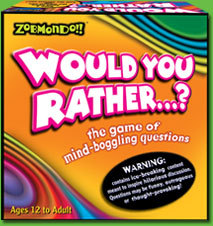 The complaint alleges that in 2004, Justin Heimberg and David Gomberg introduced their own "would you rather…?" board game, which was purchased by Defendant Imagination in 2008. In February 2009, Imagination marketed its new board game entitled "Justin and Dave's Original Would You Rather…? Board Game." Plaintiff alleges that by "including the word 'Original' in the title of Imagination's new board game, Imagination is attempting to deceive the public into believing that Imagination's game is in fact the first board game based on the 'would you rather' concept" and that Zombodo's games were imitations thereof. The case is Zobmondo Entertainment, LLC v. Imagination International Corporation, CV 09-2235 ODW (C.D. Cal. 2009).
PRACTICE NOTE: In context, does the term "original" convey first in time? It conveys, at least to me, that it's the same game which was originally produced by Justin and Dave. See Cumberland Packing Corp. v. Monsanto Co., 32 F. Supp. 2d 561, 582 (E.D.N.Y. 1999) (the term "original" conveyed that the defendant's product contained the "original" sugar-substitute aspartame-based sweetener, not that it was first in time).