Los Angeles, CA – Patent attorneys file patent infringement, trademark infringement and Lanham Act 43(a) unfair competition lawsuit in Los Angeles Federal District Court on behalf of Nobel Biocare USA, LLC, to protect dentistry patents and trademarks covering dental implant products. Nobel provides dentistry products, services, and training in the field of implant dentistry, including dental implants, abutments, individualized dental prosthetics, and surgical kits. Nobel is the assignee of U.S. Patent No. 5,795,160 and U.S. Patent No. D443,361. Nobel is also the owner of several USPTO registered trademarks which are used on its dental implant products and services.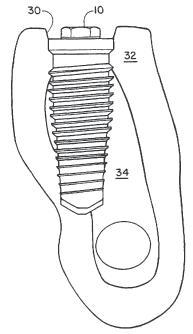 The complaint alleges that defendant "Blue Sky first began using the Nobel, Nobel Biocare, Replace, Nobelreplace, and Nobelguide marks in connection with the sale and promotion of its [dental] goods in February of 200, long after [Plaintiff] Nobel had commenced its substantial use and promotion of its" Nobel trademarks and long after it had registered the trademarks with the USPTO. The complaint alleges infringement of the '160 patent and the '361 patent. It also alleges infringement of registered trademarks under 15 U.S.C. § 1114. False designation of origin is asserted under section 43(a) of the Lanham Act, 15 U.S.C. § 1125(a) and dilution of trademarks under 15 U.S.C. § 1125(c)(1). California causes of action are asserted for unfair competition under Cal. Bus. & Prof. Code § 17200 and common law trademark infringement. The case is titled Nobel Biocare USA, LLC v. Blue Sky Bio, LLC, CV08-01407 ODW (C.D. California).
PRACTICE NOTE: Nobel's case provides an example of the use of various forms of intellectual property to provide a wide range of protection for its dental implant products. The design patents protect the aesthetic design of the product, utility patents protect the functional aspect of the product, and trademarks inform consumers about the source of the products.