Los Angeles, CA – Service mark litigation was instituted by trademark attorneys for Couples For Christ, Inc. ("CFC") at the Federal District Court in Los Angeles. The complaint asserts that CFC has used its Couples For Christ, CFC, and Stylized Cross Design service mark "in connection with education services and providing religious and relationship counseling to couples and individuals" since at least 1991. CFC has registered the subject trademarks with the U.S. Patent & Trademark Office. As a result of the registrations on the USPTO register for over five years, the service marks have become incontestable, thereby foreclosing certain challenges to their validity.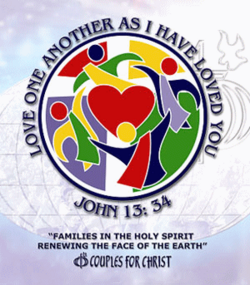 The complaint alleges that "sometime after September 20, 2007, Defendant National Organization authorized the founders and incorporators of Defendant Northern California Organization and the founders and incorporators of Defendant Southern California Organization to incorporate under the Couples for Christ name and to use the CFC Marks in association with educational services and religious counseling in Northern and Southern California, respectively." Plaintiff has requested that Defendants cease use of the marks, but Defendants have allegedly "repeatedly refused to cease their use of the CFC Marks and continue to provide educational services and religious counseling under the CFC Marks." The case is titled Couples For Christ, Inc. v. Couples For Christ USA, et al., CV08-05061 DSF (C.D. Cal. 2008).
PRACTICE NOTE: My law school professor, Douglas W. Kmiec, taught that there is always a higher power that will adjudicate the parties' earthly conduct. But for now, the parties will have to abide by the rulings of U.S. District Court for the Central District of California.