Los Angeles, CA – Trademark attorneys for In-N-Out Burger ("INO") filed a trademark infringement, trademark dilution and unfair competition complaint at the Federal District Court in Los Angeles. INO has been making hamburgers since 1948 and was the innovator of the drive-thru hamburger stand to accommodate Californians' love of their cars and hamburgers. INO registered the "IN-N-OUT BURGER" trademark with the USPTO in 1978, which trademark is used on its 140 locations.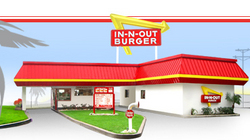 Defendant Michael Anthony Companies Incorporated offers construction services and operates a website at the following address: www.mac-companies.com. The complaint alleges that Defendant has misappropriated the In-N-Out Burger® trademark and used it in its website, "erroneously suggesting that INO is one of Defendants' 'current' clients when it is not, and depicting INO stores." INO's attorneys allege that four letters were sent to Defendant requesting removal of the In-N-Out Burger® trademark and reference from the Defendant's website, but the mark was not removed. The case is titled In-N-Out Burger v. Michael Anthony Companies Incorporated, CV 08-07601 PA (C.D. Cal. 2008).
PRACTICE NOTE: If you haven't had the "animal" at INO, it's an "off-the-menu" burger that you must try on your next visit.