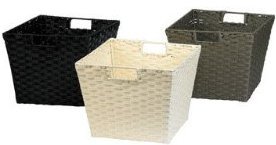 Lukasian House supplies major retail chains with hand-made storage and organization products made of wood and fibers. Lukasian alleges that for over ten years it has built a database of "mom and pop" factories in rural China that reliably provide well-designed, high-quality hand-woven products. Major retail chains choose to work with Lukasian because it has a dependable source of products for timely delivery. Lukasian, naturally, keeps the identity of its suppliers a closely guarded secret by limiting disclosure to certain employees, maintaining it on a secure computer network, and instructing employees of the confidential nature of the information. Lukasian has also filed several copyright registration applications for photographs of samples of storage baskets and a hamper that it never published.
Aprille Vergara and Chen "Jane" Chen were former employees that allegedly had access to Lukasian's trade secrets in performing their duties. In May of 2010, Vergara and Chen and other defendants allegedly accessed Lukasian's server to download trade secrets to use in establishing a competing business. Shortly thereafter, Vergara and Chen resigned and allegedly falsely stated that the former intended to go back to school and the latter was to work with in her husband's real estate business. Relying on the provided reasons, Plaintiff allowed Defendants to continue working and they're accused of acquiring "knowledge of Lukasian's suppliers, its customers, its best-selling items, the prices at which it buys and sells those items, and its profit margins on those items." Defendants are accused of selling competing products to Lukasian's customers and undercutting its prices.
Lukasian brings causes of action for copyright infringement (17 U.S.C. § 501(a)), computer fraud and abuse act violation (18 U.S.C. § 1030(g)), California comprehensive computer data access and fraud act (Cal. Penal Code § 502(c)), trade secret misappropriation (Cal. Civ. Code § 3426), unfair competition (Cal. Bus. & Prof. Code § 17200), intentional interference with prospective economic advantage, and conversion.
The case is Lukasian House, LLC v. Ample International, Inc., CV11-6449 JFW (C.D. Cal. 2011).