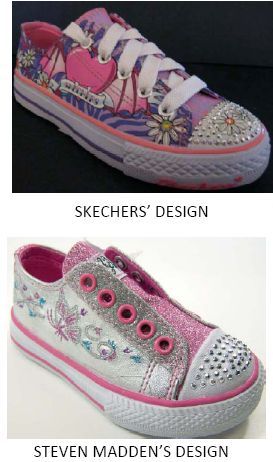 Skechers is suing Steven Madden for allegedly copying Skechers' Twinkle Toes shoe designs. The U.S. Patent & Trademark Office granted U.S. Patent No. D571,095 to Skechers covering its Twinkle Toes toe cap design for shoes. In addition to patent protection, Skechers claims that it is the owner of an inherently distinctive trade dress in its Twinkle Toes footwear designs. Skechers defines its trade dress as the combination of the following design elements: "a vulcanized canvass sneaker; a toe cap adorned with crystals, rhinestones, sequins or a plurality of other similar shiny elements; and, canvass uppers distinguished by colorful art designs or patterns." For trade dress to be protectable, it must be non-functional. And Skechers asserts that the Twinkle Toes design is non-functional and simply conveys a distinctive appearance that is a source indicator.
Skechers further alleges that it has expended many millions of dollars promoting and advertising its trade dress and, based on extensive, frequent, and ongoing advertising, marketing, sales and distribution, the trade dress has acquired distinctiveness, which indicates that the shoes emanate from a single source. In other words, consumers recognize and associate the shoe design with Skechers.
Steve Madden's "Stevies" brand shoes are accused of including "a vulcanized canvas sneaker, a toe cap adorned with crystal, rhinestones, sequins or a plurality of other similar shiny elements, and canvas uppers distinguished by colorful art designs or patterns" that infringe the subject patent. Further, Skechers contends that the Stevies footwear line so closely resembles the Twinkle toes trade dress that it is likely to cause confusion, mistake, and deception as to an affiliation, connection, or association of Steve Maddens' footwear with Skechers. Skechers also contends that "Defendants have acted willfully, in bad faith and with the intent to confuse and mislead the public and unfairly trade on the substantial and valuable goodwill associated with Skechers' Twinkle Toes® Trade Dress and to capitalize on Skechers' highly respected reputation as a stylish, high quality footwear company."
Design patents provide the owner with several competitive advantages. For example, design patents, during their fourteen year lifespan, can be used to legally prevent competing products from entering the market while the owner also establishes trade dress rights by attaining secondary meaning. Trade dress rights can then be used to perpetually protect the product configuration for as long as the trade dress is being used as a source identifier. Also, unlike utility patents, 35 USC § 289 allows a disgorgement of the defendants' profits from any infringing sales. Design patents provide fashion designers protection for their clothing and shoe designs, which are considered useful articles that are not protectable by copyrights. Indeed, Steve Madden was recently sued by Jeffrey Campbell for design patent and trade dress infringement for allegedly copying the Lita shoe.
Additionally, a patented design may be infringed regardless of distinguishing trademarks or labels applied to the product that can defeat a trade dress claim. In L.A. Gear, Inc. v. Thom McAn Shoe Co., 988 F.2d 1117 (Fed. Cir. 1993), the Federal Circuit affirmed the finding of design patent infringement but reversed the trade dress infringement claim because defendants' conspicuous labels and trademarks applied to the shoes made confusion among consumers unlikely. Although the Lanham Act also provides for disgorgement of the infringer's profits, a double recovery is not allowed for infringement of the same design patent and trade dress. See, e.g., Contour Chair Lounge Co. v. True-Fit Chair, Inc., 648 F. Supp. 704, 719, 1 U.S.P.Q.2D (BNA) 1353, 1364 (E.D. Mo. 1986) ("Plaintiff is also entitled to lost profits for [trade dress infringement]; however, plaintiff has already recovered these damages under its patent claim.").
The case is Skechers U.S.A., Inc. v. Steven Madden, Ltd. et al., CV11-07295 PA (C.D. Cal. 2011).