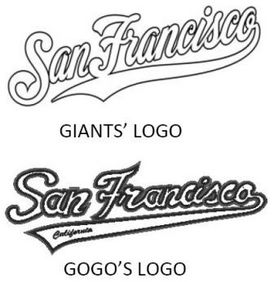 The MLB champion San Francisco Giants not only failed to make the playoffs, but, to add insult to injury, their failure to register their stylized "San Francisco" logo is forcing them to defend a trademark lawsuit filed by a junior user, Gogo Sports. Gogo is an apparel manufacturer that sells customized and private labeled products according to its customer's orders. Although Gogo is alleged to have adopted its San Francisco logo after the Giants, Gogo filed an application to register the trademark at the U.S. Patent & Trademark Office, whereas the Giants – surprisingly – did not, until only recently. On August 8, 2011, the Trademark Examining Attorney refused registration of the Giants' later filed application for "clothing, namely, shirts and jackets; headwear" in light of Gogo's previously registered – although on the Supplemental Register – trademark for "Caps; Hats; Headwear; Jackets; Shirts; Sweat shirts; Tops" because:
Here, the marks are virtually identical. Both share the same large wording SAN FRANCISCO in a stylized cursive font sloping upwards from left to right and with the same underline shape extending from the O under the wording. The only difference is the applicant did not include the geographically descriptive wording CALIFORNIA in small letters in the underline portion of the registrant's mark.
Less than a month after the refusal, Major League Baseball Properties ("MLBP") sent Gogo correspondence asserting superior rights in the design mark and demanding Gogo "immediately and expressly abandon the Supplemental Registration for the [mark], and immediately cease and desist from manufacturing, advertising, marketing, distribution, offering for sale and/or selling the Unlicensed Clothing and any other unlicensed product bearing any of the MLB Marks and/or any mark or graphic confusingly similar to and/or dilutive of any of the MLB Marks."
After several correspondence between counsel, Gogo filed a declaratory judgment lawsuit seeking the Court's ruling that it "has not infringed any trademark or protectable interest of the Giants and that the Giants have no valid trademark or other protectable interest in any products advertised, marketed, distributed or sold by Gogo Sports." But Gogo doesn't stop there and inexplicably asks for a finding that "the Giants' claim is barred and/or waived by the doctrine of laches, estoppel and/or acquiescence for their failure to seek USPTO registration for over 18 years."
Although trademark rights are established upon use in commerce, this case exemplifies the advantages of early trademark registration that the Giants would have enjoyed, i.e. avoiding a nuisance lawsuit by a junior user. Also, even if a trademark registered on the Supplemental Register is not afforded the same rights as a mark on the Principal Register, one privilege – as here – is the USPTO's refusal to register a later filed application based on a likelihood of confusion.
The case is Gogo Sports, Inc. v. Major League Baseball Properties, Inc. et al., CV11-7992 JHN (C.D. Cal. 2011).