Los Angeles, CA – A trademark, trade dress, and unfair competition complaint was filed in the Central District of California by Torrance based Virco, through its Pasadena trademark attorneys. Virco is a furniture manufacturer and has manufactured a chair with three parallel slots that extend from the seat to the backrest. Virco filed a trademark application for the "three slot" design feature with the USPTO and it became a registered trademark on June 10, 1997. Virco asserts that in the furniture industry, the three slot design trademark is well recognized as a product manufactured by Virco and since 1997, its sales of the three slot chairs have averaged in excess of $10,000,000 per year.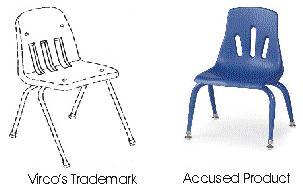 Virco alleges that in late 2007, it discovered that defendant "was manufacturing, selling, advertising, and distributing two versions of a children's plastic chair that used [Virco three slot design trademark]. The goods sold by defendants are confusingly similar copies of the [Virco's trademark]." Virco continues that defendant's use of the three slot trademark "creates a likelihood that Plaintiff's customers, potential customers, members of the trade, and the public generally will be misled as to the source of goods or services in that they are likely to believe that Defendant's business and products are affiliated with or sponsored by Plaintiffs. The complaint sets forth the following seven causes of action: (1) Registered trademark infringement, (2) False designation of origin 15 U.S.C. 1125, (3) Trade dress infringement, (4) Common law trademark infringement, (5) Common law unfair competition, (6) Statutory unfair competition, § 17200, (7) Trademark Dilution. The case is titled Virco MFG. Corp, v. Jonti-Craft, Inc., CV08-01332 PSG (C.D. California).
PRACTICE NOTE: Because Virco's trademark has been registered for over five years, it has become incontestable under 15 U.S.C. § 1065. A defendant in a trademark lawsuit cannot challenge an incontestable trademark on the following grounds: descriptiveness, deceptive misdescriptiveness, geographic descriptiveness, and primarily merely a surname. Another important reason to register trademarks is that a prior user of an unregistered mark cannot contest a registered mark after five years based on prior use.