In a patent infringement lawsuit, medical device maker TriMed, Inc. had accused Stryker Corporation, a competing medical equipment manufacturer of devices that mend broken bones, of infringing on its utility patent related to an implantable wrist-fracture treatment medical device. The District Court in Los Angeles, California had adopted Stryker's proposed claim construction and granted summary judgment of non-infringement.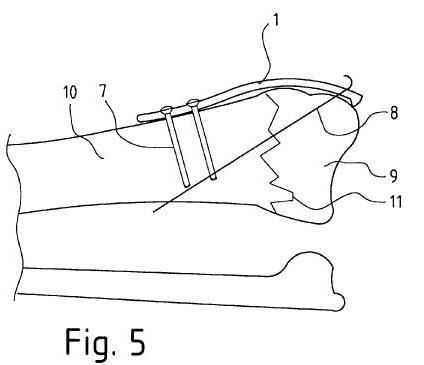 TriMed appealed and the Federal Circuit Court of Appeals ("CAFC") held that the claim at issue of U.S. Patent No. 5,931,839 "recites sufficient structure on its face for performing the claimed functions, and therefore, contrary to the district court's interpretation, does not involve a means-plus-function limitation." In holding that the lower court had erred in its claim construction and order of non-infringement, the Federal Circuit stated:
Stryker's motion for summary judgment of noninfringement was premised solely upon reading the claim language at issue as a means-plus-function limitation. Having properly construed the relevant claim language as falling outside the ambit of § 112 ¶ 6, we hold that Stryker has failed to demonstrate that there is no genuine issue of material fact that its accused devices do not infringe on the '839 patent. By Stryker's own admission, the structural limitation of holes in claim 1 is certainly present in its accused devices.
The Federal Circuit, by reversing the trial court's summary judgment order, revives TriMed's patent infringement litigation in Los Angeles District Court.
PRACTICE NOTE: When drafting patent claims in a patent application, particular attention must be paid to the term "means" and whether it is intended to serve as a "means plus function" limitation. If uncertainty exists, the prudent path is to eliminate the term "means" from the claim language.