A federal complaint alleging (i) copyright infringement, (ii) unfair competition and false designation of origin under the Lanham Act § 43(a) (15 U.S.C. 1125), (iii) unlawful deceptive acts and practices, and (iv) unfair competition under New York law was filed against Target Corp., by well renowned fashion designer Diane von Furstenberg ("DVN"). DVN accuses Target of selling a dress with a print that is nearly identical to DVN's fabric pattern and design for a "spotted frog" print, for which DVN owns copyright registration number VAu704-073. Click HERE to read the complaint.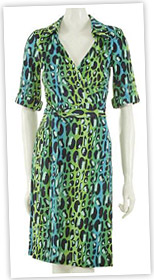 DVN alleges that after her attorneys sent a cease and desist letter to Target, the infringing dress was quickly removed from Target's website. Target, however, is accused of continuing to sell the infringing dresses at its retail locations across the country. Thus, the complaint alleges that Target's "infringement is willful, done with knowledge of and/or in reckless disregard of DVF's rights in its Spotted Frog Design." If the infringement is found to be willful, the Court may award punitive damages.
PRACTICE NOTE: Copyright laws currently protect patterns and designs printed on or stitched into the fabric. As we have previously discussed, however, copyright protection is not currently available to protect fashion designs themselves (i.e. the cut, style, or dimensions of clothing). But the Design Piracy Prohibition Act (H.R. 5055) bill is currently pending in congress that, if enacted into law, will provide three years of protection for the fashion design if certain conditions are met. Click Here To Read About The Bill.