Several purse trade dress infringement lawsuits have been filed in Los Angeles over the last couple of years (see Linea Pelle lawsuit, Marc Jacobs lawsuit, and Givenchy lawsuit) as designers try to protect their handbag designs from being copied. With a little bit of careful planning and foresight, designers can avoid having to provide constrained definitions for the non-functional and protectable features of their designs, in addition to proving consumer's recognition of the trade dress as an indicator of source, i.e., capable of distinguishing one company's product from another's. Although the purse's structural design is not entitled to copyright protection, designers may obtain design patents to protect the aesthetic design features of their purses.
Hammitt appears to have no design patent protection and is attempting to assert an ambiguous trade dress infringement and unfair competition claim against TJ Maxx, designer Patricia Nash and her company Me & You Accessories, Inc. Judging from the absence of some crucial information from the complaint, including a picture of the accused infringing purse, the length of time the purported trade dress has been used, sales volume, etc., the complaint appears ripe for a motion to dismiss. Indeed, the definition of the trade dress itself appears to be overbroad and ambiguous:
HAMMIT® products are easily identified by its unique silhouettes and use of hardware, one of the most well recognized of which features Hammitt's signature rivets, which appear in linear patterns along the sides, trimmings, and/or handles of the product (hereinafter "Signature Rivet Trade Dress"). The rivets of Hammitt's Signature Rivet Trade Dress are the same size and each rivet is separated with the same amount of space on all goods with which said trade dress is utilized.
The complaint includes the pictures of the bags to the right, but it does nothing to narrow the definition, which definition is broad enough to encompass the Harley Davidson motorcycle bag from the 90's pictured below: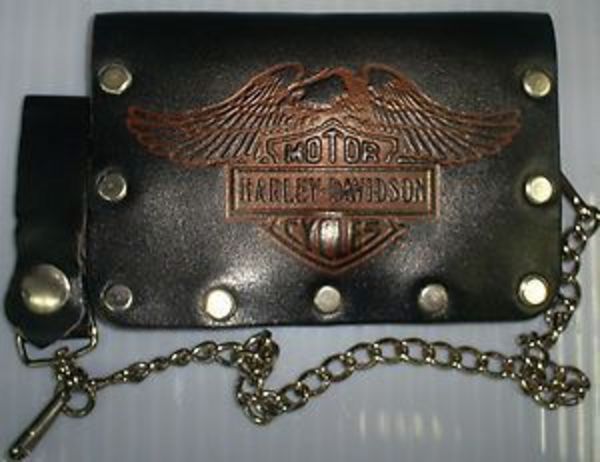 In trade dress cases, the defined trade dress may be generic if the "definition of a product design is overbroad or too generalized." Jeffrey Milstein, Inc. v. Greger, Lawlor, Roth, Inc., 58 F.3d 27, 32 (2d Cir. 1995). Because the California Secretary Of State business records establish the Hammit corporation was not formed until 2008, another company's first use of the alleged trade dress or wide spread use of the trade dress by third parties will either preclude exclusive trade dress rights in the rivet design or enforcement thereof. Further, the complaint's assertion that only "elements" of the purported trade dress are nonfunctional may prevent enforcement of the trade dress.
The Supreme Court held that "a product feature is functional if it is essential to the use or purpose of the article or if it affects the cost or quality of the article." Inwood Labs., Inc. v. Ives Labs., Inc., 456 U.S. 844, 850 n.10, 102 S. Ct. 2182, 72 L. Ed. 2d 606 (1982). The Court later announced another test and explained that a feature is functional if "exclusive use of the feature would put competitors at a significant non-reputation-disadvantage." Qualitex Co. v. Jacobson Prods. Co., Inc., 514 U.S. 159, 165, 115 S. Ct. 1300, 131 L. Ed. 2d 248 (1995). Under this "competition theory of functionality," courts consider whether trade dress protection would leave a "variety of comparable alternative features that competitors may use to compete in the market." Maker's Mark Distillery, Inc. v. Diageo N. Am., Inc., 679 F.3d 410, 418 (6th Cir. 2012). "If the feature is not a likely impediment to market competition, then the feature is nonfunctional." Id.; Disc Golf Ass'n v. Champion Discs, Inc., 158 F.3d 1002, 1008 (9th Cir. 1998) (considering whether "commercially feasible alternative configurations exist"). In the Ninth Circuit, when the feature also "contributes to the consumer appeal and saleability of the product," the "aesthetic functionality" doctrine "retains some limited viability." Au-Tomotive Gold v. Volkswagen of America, 457 F.3d 1062, 1070 (9th Cir. 2006); Vuitton et fils S.A. v. J. Young Enters., Inc., 644 F.2d 769 (9th Cir. 1981).
Thus it appears that Hammitt is going to have a tough hill to climb to prove ownership of an enforceable trade dress and infringement. Another obstacle on the hill may be consumer's annoyance with Hammitt's cleverly worded representations that lead consumers to believe its products are manufactured in Los Angeles instead of China.
The case is Hammitt, Inc. v. The TJX Companies, Inc., et al., CV13-6943 MWF (C.D. Cal. 2013).