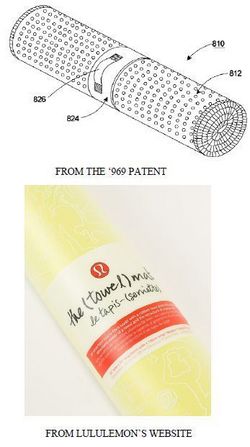 Yogitoes LLC is a Los Angeles based developer of yoga related inventions, including Skidless® yoga mats and absorbent yoga towels and mats. Yogitoes is the owner of U.S. Patent No. 6,961,969 ("the '969 Patent") for an invention titled "Absorbent Towel With Projections." Yogitoes' patent covers a mat or towel with a liquid-absorbing base created with projections, which projections are made of a material to increase the gripping quality to stop the mat/towel from skidding on the floor. The patent also covers the process of making a mat/towel with these qualities.
In a patent infringement lawsuit filed in Los Angeles, Lululemon Athletica, Inc., the Vancouver-based yoga gear maker, is accused of infringing the '969 Patent by making and selling products, including "The Towel Mat," that fall within the scope of at least Claim 1 of the patent. Just like the metes and bounds describe the property lines of a piece of land, the claims of a patent "define the invention and notify the public of the patent's scope." Warner-Jenkinson Co. v. Hilton Davis Chem. Co., 520 U.S. 17 (U.S. 1997). Claim 1 of the '969 Patent provides:
A towel for use on a surface, the towel comprising:
a base layer having (i) a first side and (ii) a second side that is substantially opposite the first side; and a plurality of raised first projections that are each separately secured to the first side, the first projections having a higher coefficient of static friction than the base layer so that the first projections inhibit relative movement between the towel and the surface when the first projections are in contact with the surface.
In order to infringe a patent's claim, the accused product must contain "each and every element of a patent claim." Callicrate v. Wadsworth Mfg., 427 F.3d 1361, 1372 (Fed. Cir. 2005). Yogitoes alleges that it had notified Lululemon of its infringement, but the infringement has not discontinued and is now willful and deliberate. The complaint does not provide the amount of damages suffered, but will seek to treble the damages once established per 35 U.S.C. § 284 and for attorneys' fees per 35 U.S.C. § 285.
Here's Lululemon's video for the accused towel mat:
Lululemon is not a new comer to the patent infringement arena, having previously sued and settled a design patent infringement case against Calvin Klein over yoga pant's design.
The case is Yogitoes LLC v. Lululemon Athletica, Inc., CV13-07234 BRO (C.D. Cal. 2013).