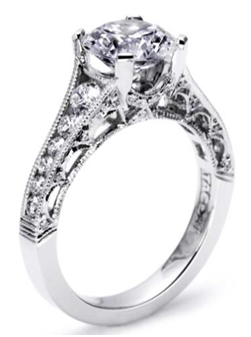 Los Angeles, CA – Tacori Enterprises sued Scott Kay for copyright and trade dress infringement over sales of jewelry incorporating a repeating crescent design. Tacori filed an ex parte application for a temporary restraining order to prevent further sales of Scott Kay's Heaven's Gate Collection that allegedly infringes Tacori's purported copyrights and trade dress.
Although the Court found that Tacori is likely – because of the "extremely low burden" – to establish copyright ownership, Tacori had not shown that "it is likely to pass either the extrinsic or intrinsic test" to prove infringement. The extrinsic test "requires a court to examine the similarities between the copyrighted and challenged works and then determine whether the similar elements are protectable or unprotectable." "The intrinsic test is a subjective comparison that focuses on whether the ordinary, reasonable audience would find the works substantially similar in the total concept and feel of the works."
The Court relied on Scott Kay's submission of third-party evidence having similar elements of the crescent design at issue to find that many of the design elements were likely not protectable. As for the intrinsic test, the Court found it unlikely that a reasonable audience for the rings "would find them substantially similar in total concept and feel in light of their differences."
In evaluating the functionality prong of the trade dress claim, the Court found that "[b]ased on the evidence submitted regarding the common use of crescent designs on rings, if Plaintiff was granted exclusive use of its Reverse Crescent Trade Dress, it would likely put its competitors at a significant, non-reputation-related disadvantage." Also, the use of the common crescent design by others proved detrimental to Tacori's purported secondary meaning evidence. Lastly, the Court found that Tacori could not establish a likelihood of confusion because there was no evidence that Scott Kay intended to adopt Tacori's design and the expensive nature of the jewelry would require great care in purchasing decisions.
A copy of the order is available here. The case is Tacori Enterprises v. Scott Kay, Inc., CV11-1565 DSV (C.D. Cal. 2011).
Read a jewelry patent attorney's more detailed article on how to protect jewelry through both design patents and utility patents when copyright protection is unavailable.