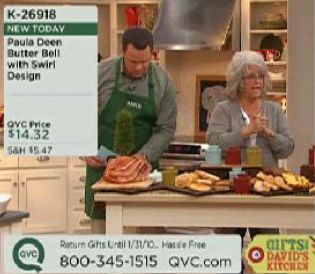 Santa Ana, CA – The Southern-style chef Paula Deen has made "Hey Ya'll!" her trademark phrase on the Food Network, while refusing to make anything remotely healthy that excludes her beloved butter, cheese, and fried foods. Maybe because of her love of butter, however, she has been sued for trademark infringement for selling cooking accessories under the "Butter Bell" trademark.
Plaintiff registered its Butter Bell® trademark with the U.S. Patent and Trademark Office in 2002, and has since become incontestable. Plaintiff initially used its Butter Bell® mark on ceramic crocks, but has since expanded its line of goods to include gourmet food related products. Plaintiff contends that its Butter Bell® products are sold through numerous channels, including on the Food Network and Paula Deen's own "Cooking with Paula Deen" magazine.
Plaintiff alleges that QVC is a significant customer of its Butter Bell® products, where Paula Deen appeared to promote and market the infringing crock product. Plaintiff further contends that Defendants previously asked the Plaintiff to develop a Butter Bell® product which included a Paula Deen logo. Thus, Plaintiff alleges that Defendants' infringement is willful and intentional.
Looking on the bright side, being hit with a trademark infringement lawsuit doesn't hurt as bad as getting hit with frozen ham:
 
https://www.youtube.com/watch?v=fAZnreM5Mwg
 
The case is L. Tremain, Inc. v. Paula Deen, et al., SACV10-00322 AG (C.D. Cal. 2010).