Los Angeles, CA – Manley Toys Ltd filed a trademark and trade dress infringement lawsuit against Radco Ltd in the U.S. District Court for the Central District of California (Los Angeles Division). Manley designs and manufactures a variety of toys including the inflatable waterslide toys that are the subject of the lawsuit. Manley is no stranger to trade dress lawsuits involving waterslides, being previously sued by Wham-O (details here).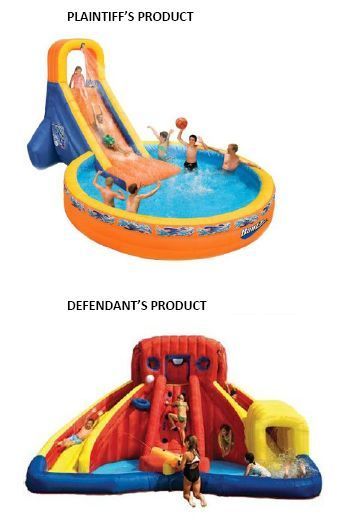 Four years ago, Manley created and sold a waterslide toy under the trademark "The Plunge," which it alleges has been highly successful. The complaint also contends that Manley has "adopted a distinctive color scheme and appearance for its product which, taken together, form a protectable trade dress for The Plunge product." The product is also marketed and sold under Manley's Banzai trademark.
Manley alleges that Radco's use of the mark "Pipeline Plunge" infringes its trademarks and that it was adopted in bad faith, "Defendants' use of the term Pipeline in the name Pipeline Plunge is a transparent attempt to associate Defendants' water slide with Plaintiff's well-known Banzai brand by reference to the notorious and famous 'Banzai Pipeline' surf area off the north shore of Hawaii's Oahu Island." Defendants will probably argue that you'd have to, at the very least, be a Kamaaina to make that connection. Manley also claims that Defendants have used a color scheme "that is to all intents and purposes identical to Plaintiff's The Plunge toy." The case is Manley Toys Ltd v. Radco Ltd HK, et al., CV09-3129 VBF (C.D. Cal. 2009).
PRACTICE NOTE: Plaintiff has apparently named the companies' officers as defendants in the lawsuit. A company's officers who authorize and direct infringing activities can be held personally liable. Committee for Idaho's High Desert, Inc. v. Yost, 92 f.3d 814, 823 (9th Cir. 1996).