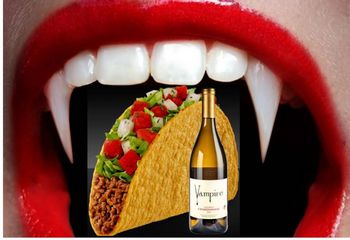 TI Beverage Group and its attorney, trademark licensor, and co-plaintiff Michael Machat are not drinking at the Yard House and nothing seems to be merry despite the consumption of tacos and alcohol. Plaintiffs appear to have more of an affinity for Vampires than Bram Stoker himself, having registered numerous Vampire related trademarks for beverages, bars, and restaurant services, including Vampire® and Dracula® for wines and Vampire Lounge & Tasting Room® for restaurant and Bar Services. Even Bella Swan doesn't think this amount of vampire love is healthy, said the star of the Twilight saga. Moreover, Sookie Stackhouse is upstaged by Plaintiffs' undying love of vampires because Plaintiffs previously sued HBO for trademark infringement for selling TruBlood beverages.
Plaintiffs claim to have recently sniffed out Yard House's sale of "VAMPIRE TACO" and use of "VAMPIRE STYLE" to excite potential customers about its food and/or beverage offerings. Yard House has also file trademark applications for Vampire Taco and Vampire Style, which are both pending. Plaintiff alleges that if Yard House "is not stopped from marketing food products and restaurants using Plaintiffs' Vampire Mark or a mark confusingly similar to Vampire, then consumers will likely be confused about the source and origin of defendant's products and services and mistakenly conclude that defendant's products or services are produced by, or associated with Plaintiffs…As a result, Plaintiffs' reputation and goodwill will be impaired." The complaint seeks unspecified damages, but Plaintiffs intend to disgorge Yard House's profits, request an award of attorneys' fees in addition to an injunction prohibiting Yard House's use of the Vampire trademark.
Click here for a copy of the complaint.
The case is TI Beverage Group, Ltd. et al. v. Yard House USA, Inc., CV15-02583-E (C.D. Cal. 2015).